Hello, Boots!
Pointy-toed boots are out and combat boots are in? See what these style experts have to say about the season's trends for boots.
(page 4 of 4)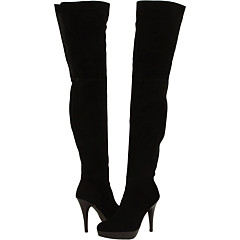 Thigh-highs
Thigh-high boots, like this Stuart Weitzman black suede pair, are all the rage right now, but easily can be slightly Pretty Woman –ish. (Ladies, you know what I'm trying to say…) If you work the trend, do so in a classy chic way. Consider a flat style; they're easier to walk in. "But make sure they fit snugly around your leg," reminds Dawn Del Russo, an accomplished stylist and owner of an online boutique, belladawn.com. Dawn also advises:
For seriously cold winter days, fur lining will keep you ultra warm; just keep the fur on the inside.
One of the hottest boot trends are the fold-over styles, which work great with opaque tights and long-sleeved dresses.
If you are looking for a chic city-style pair, try black leather platform booties -- totally it right now.
I always suggest having two signature boot styles in your closet for winter: A great knee-high flat pair in brown, and a sleek black heel pair.
Don't do extremely pointy toes; they are totally last, last season.
Look for studded and buckle details. Tons of styles right now look great with a pair of basic leggings, a cute leather skirt or your favorite LBD.
For a dressy winter boot, try a high, skinny heel and cutouts.
The most important trends of all are comfort and dressing to your personal lifestyle. Perhaps over-the-knee boots aren't a fabulous choice for a librarian gig, but may be an excellent choice if you work in a fashion environment. We make our own rules as we go along, but going too far too fast can be ultimately the most un-trendy move of all!
More winter fashion on SheKnows
Winter couture looks for less
Winter sweaters for warmer climates
Outerwear for every shape