Sheer Genius
Tinted moisturizers are surefire picks for easy, natural makeup routines. We've scoped out five of our favorites to share with you.
(page 2 of 5)
Lancome Bienfait Multi-Vital Teinte
On the other end of the coverage spectrum, Lancome's tinted moisturizer is a heavier formula that provides (surprise!) heavier coverage.
If you're going for a made-up look but don't want to deal with the hassle or weight of a traditional foundation, this tinted moisturizer is right on the money. With a flawless matte finish, great coverage for its weight and SPF 30 protection, this tinted moisturizer is an easy pick.
Because the formula is a little thicker, you may want to pair with a foundation primer to help to ensure even application; check out our picks for the seven best foundation primers here . $44 from Lancome-USA.com.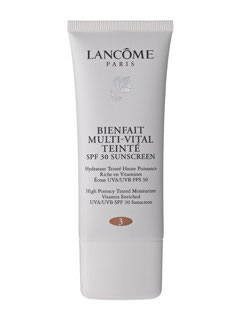 More top tints on the next page!