Feminine Floral
Michelle Obama captured the heart of the fashion world during the election, and her sartorial selections continue to intrigue and impress now that she's in the White House. Her classy look here is enviable -- and not out of your reach.
(page 2 of 2)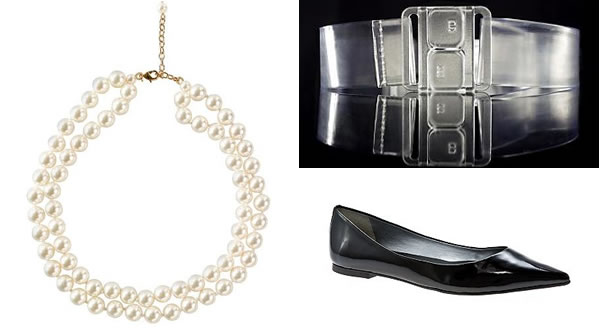 Belt:
A transparent belt with an oversized bright purple buckle gives Michelle's outfit some unique flair. Clear belts that don't look totally tacky can be difficult to find (especially on a budget), so we've found a versatile solution: Bare Necessities' Invisibelt Invisible No Buckle Clear Belt. The belt is actually designed to cinch in pants that are a little too big on top without the bulk a typical belt, so you can still wear it under a slim top. In terms of recreating Michelle's look, however, you can use the no-buckle buckle as a base to create your own perfect transparent belt with a few creative touches such as ribbon or paint.
$20 from BareNecessities.com
Shoes:
Michelle strolls with her family in comfort and style in simple black patent leather flats. Mia's Hepburn Patent Flat is practically a dead ringer for Michelle's shoes, right down to the chic pointed toe. If you don't already own a pair of black flats, they're versatile, adaptable and well worth the investment.
$39.95 (marked down from $59) from DWS.com.
Necklace:
Michelle's outfit gets a dose of classic sophistication with a double-strand pearl necklace. For a similar style that won't break the bank, try the Cezanne 10mm Pearl Necklace from Dillard's, which has two strands of glass pearls. Their timeless style takes a page straight from Breakfast at Tiffany's.
$32 from Dillards.com
Steal another celebrity look:
Steal the look: Cameron Diaz
Steal the look: Nicole Richie
Steal the look Kate Winslet