Beach Bag Ball
While it may seem tempting and convenient to bring your everyday bag with you to the beach, this almost always ends poorly: sand in every crevice, exploded sunscreen in the inside and water damage on the outside. Do yourself a favor and get a bag tailor made for the beach; we present five that all cost under $50. They just may even put that everyday bag of yours to shame.
(page 2 of 3)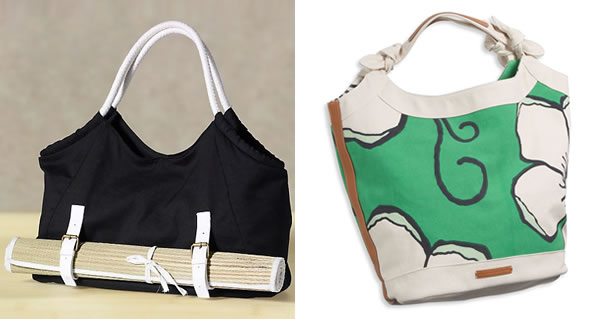 Dual purpose
This tote bag from Spiegel is a catch in its own right: the solid black canvas contrasts with the stark white rope handles and buckle straps to create a subtle nautical vibe. Best of all, however, this tote comes with its own straw beach mat. Even if this mat isn't quite your style, you can easily swap it for one of your own and easily attach it with the buckle straps. The bag is a steal on sale for $49 at Spiegel.com.
Flirty floral
American Eagle Outfitters may not be the first place to spring to mind of where to look for trendy accessories but with bags like this AE Beachy Tote, it seems it's high time for this to change. The cotton canvas tote has an oversized floral print with a distinctly Hawaiian vibe. While this bag has a surfside aura to it, it could easily be used off the beach as well. The tote comes in green (pictured) and pink and is available on sale for $29.95 at Ae.com.