Body Baring Beach Style
Inexpensive bikinis are pretty much a dime a dozen, but for bikinis that look high end without burdening your budget - well that can be a challenge. Fear not: we're here to help! Here are our five picks for stylish and posh-looking two-pieces that all retail for less than $100.
(page 5 of 5)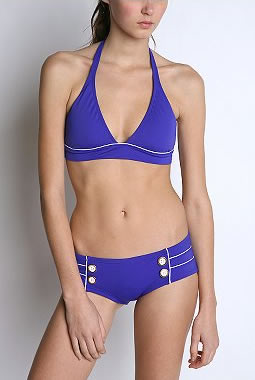 5. Nautical
A little maritime inspiration is always poolside sexy. Billabong's Piped Halter Top ($48) and Piped Boyshort ($48) combine to give a wink and a nod to the Navy uniforms of lore with their crisp lines and buttons on the boyshorts. For the more modest, the boyshort bottoms offer more coverage in both the front and back. The suit is a web exclusive at UrbanOutfitters.com and is also available in black.
More beautiful bikinis:
Super swimwear for all body types
Celebrities in bikinis
High fashion beachwear: 5 swimwear designers to watch