Body Baring Beach Style
Inexpensive bikinis are pretty much a dime a dozen, but for bikinis that look high end without burdening your budget - well that can be a challenge. Fear not: we're here to help! Here are our five picks for stylish and posh-looking two-pieces that all retail for less than $100.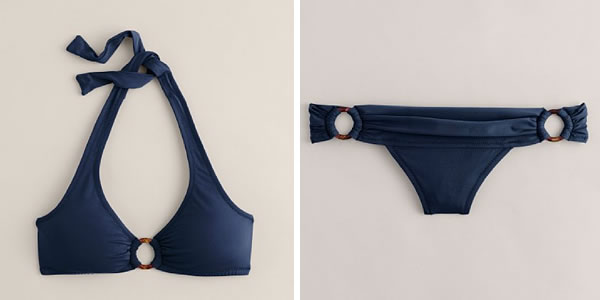 1. Luxurious
For a swimsuit that looks truly extravagant without actually breaking the bank, J. Crew is a perfect place to look. Their luxe solid tortoise-ring halter top ($46; $48 for D-cup) and luxe solid tortoise-ring hipster bottom ($44) are made with high quality materials and it shows. This flattering bikini will work in almost any water-side setting -- from a tropical margarita fueled spring break to a snack and chat at the most exclusive country club. The suit comes in five fabulous colors: black, navy, root (light brown), light chartreuse and dark peony. All the colors are great but the navy is our hands down favorite for the way it works with the color of the tortoise-inspired details to create a classic and classy look. The suit is certainly not the cheapest around however J. Crew's swimwear stands the test of time so it's well worth the investment.