Fabulous Fitness Carryalls
The perfect wardrobe outfit requires more than just what you don on the treadmill. For serious gym style (and convenience!) a gym bag is a must have. Here are five great options that all ring up under $50.
(page 5 of 5)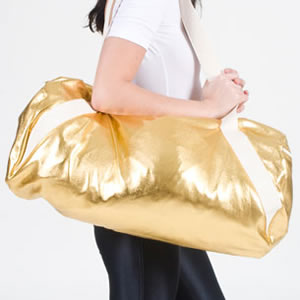 5. Serious shine
Has your workout routine (and garb) gotten ho-hum over time? Bring a little pizzazz to your go-to gym carryall with a bag with serious sheen. American Apparel, which also boasts a plethora of basic gym bags and workout apparel in every color combination imaginable, has a shiny denim gym bag that make a serious statement. It's available in four fun colors (all matched with ivory straps): black, gold, red and royal blue.Its roomy size means you'll never have to worry about not being able to bring everything you wanted for your workout, and its low price (just $33!) means that you don't have to worry about it wreaking havoc on your budget.
More fitness fashion tips:
How to pick the perfect gym 
Fashionable and functional bags for every kind of travel 
Cheap ways to stay fit