Hip, Hot Mama Tees
As the weather quickly turns from the chilled air of early spring to the warm, breezy days of summer, don't fret over fashion. Being pregnant is a fabulous time to pick up a few sexy, sweet or sassy tops to make your belly bump glow. Here are three maternity styles that will keep you trendy as you carry the little one.
(page 2 of 3)
Edgy
Just because you're dressing for two doesn't mean you can't dress with a little flare. Whether it's with words or cutting edge details, you're momma-to-be style can be just as hip as anyone other fashion statement.


Does this baby make my butt look big?
If you like being on the cutting edge of fashion and rocking wardrobe staples alongside trendy pieces, you will love these edgy, ultra-hip tops that make people stop and look. Check them out at 2 Chix.
---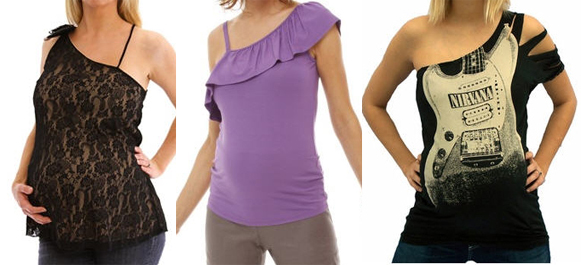 Off the shoulder momma style
The one-shoulder look is back and hotter than ever. If you are looking for a sleek, sexy top to showcase your slim shoulders and growing bump, try one of these three styles. Talk about a stylish mom.
(Left to right: Kiki's Fashions, Sierra Lane Maternity, Stella Maternity)