(page 3 of 3)
Hurry! You're late...
Look
great fast
Maybe you were having a dream about George Clooney that continued, thrillingly, through the trilling of your alarm clock. Or perhaps your kids begged you to make homemade pancakes (which left you with three minutes to get the flour out of your hair, and no time for concealer). When your day feels like a mad dash instead of a walk in the park, these tweaks to your beauty routines can help you at least appear to have your life under control.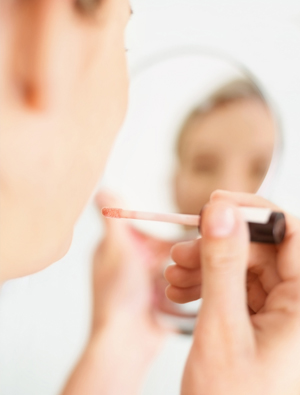 Makeup multitaskers
Here are five cosmetic overachievers that save you time -- and purse space -- by offering at least three beauty benefits in one small package.
Foundation + makeup brush + sun protection = Neutrogena Mineral Sheers Liquid Makeup SPF 20
Nail file + cuticle softener + cuticle pusher = 5 Second 3-in-1 Manicure Pen
Concealer + wrinkle smoother + sun protection = L'Oréal Paris Visible Lift Line-Minimizing & Tone-Enhancing Concealer SPF 20
Eyebrow tamer + skin softener + blister blocker + more = Bliss Problem Salved 20-in-1 Wonder Balm
Lip gloss + tooth whitener + breath freshener = Tarte Enbrightenmint BriteSmile Whitener & Tarte Lipgloss
Speedier showering
Could you get in and out any faster -- and still emerge with clean, soft skin and hair, and a refreshed spirit? Absolutely, say the experts. Here are six ways to make your time under the spray deliver more.
Simplify sudsing: "Just focus shampoo on the roots instead of lathering up the whole head," suggests Cilmi. "As the shampoo slides down your hair shaft during the rinse, the rest of your hair will get clean." Quickly squeeze out the excess water before you put in conditioner to prevent diluting the moisturizing ingredients. Then you can leave conditioner in for less time.
Get a brighter smile: Stash an extra toothbrush and toothpaste in your shower caddy. "I'm a firm believer that brushing my teeth in the shower saves time," says Los Angeles aesthetician Angela Nice. Makeup artist Ramy Gafny swears by Arm & Hammer Whitening Booster, a peroxide gel you put on top of toothpaste to brighten teeth in a hurry.
Steam-clean your complexion: Slap on a hydrating facial mask to deep-clean your skin. The treatment ingredients will penetrate further when they work in conjunction with the shower's pore-opening steam. Try Clean & Clear Soft In-Shower Facial, and rinse after one minute.
Eliminate stubble: "Never shave dry," says Dr. Day. Instead, use a moisturizing body wash in conjunction with your razor to get your skin clean, soft, and stubble-free. Try Weleda Sea Buckthorn Creamy Body Wash. If you wax, lather up with an exfoliating wash that will help reduce ingrown hairs made worse by waxing. Try: Johnson's Softwash Gentle Exfoliating 24 Hour Moisturizing Wash. New Veet In Shower Hair Removal Cream features a water-resistant formula that stays put under the spray. After two minutes, whisk the depilatory cream away with the accompanying sponge.
Clear your cuticles: Once your hands have been in the water for a couple of minutes, use a washcloth to gently push back cuticles. Doing this every time you shower will prevent cuticle buildup, so your nails look clean and well cared for, even when you don't have time for regular manicures.
Smooth your soles: Sally Hansen La Cross Foot Smoothing Disk is a palm-size, easy-to-grasp disk with exfoliating ridges that remove dead skin as you slide it back and forth across your feet. For spa-worthy results, wait until the end of your shower, when the warm water makes skin easier to slough off. If you shower in a tub, plug the drain and sprinkle in some bath salts for an instantly soothing foot soak that will also help soften any rough spots on your soles.
More beauty solutions
Beauty products to toss, try and buy
Soothing solutions for sensitive skin
Fall fashion: Splurge vs steal
Reprinted/adapted with permission of Hearst Communications, Inc.
Originally Published: 21 Look-Great Shortcuts