(page 2 of 3)
Hurry! You're late...
Look
great fast
Maybe you were having a dream about George Clooney that continued, thrillingly, through the trilling of your alarm clock. Or perhaps your kids begged you to make homemade pancakes (which left you with three minutes to get the flour out of your hair, and no time for concealer). When your day feels like a mad dash instead of a walk in the park, these tweaks to your beauty routines can help you at least appear to have your life under control.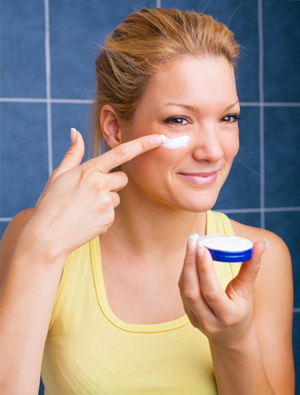 The ultimate time saver: Sleep
You may be off in dreamland, but your skin is working overtime. "Inflammation is down and stress hormones reach their lowest levels by the middle of the night," says Amy Wechsler, M.D., a New York City dermatologist. This relaxed state can help put the brakes on breakouts, fine lines, dark circles -- the works. Here's how to boost your looks while your body rests.
Skin saver: Topical retinoid
"Nothing works better at night to prevent and correct wrinkles than a topical retinoid," says Doris J. Day, M.D., clinical assistant professor of dermatology at NYU Medical Center. With regular use, this potent antiaging ingredient helps speed cell turnover and ratchet up collagen production, so you awake with smoother, more radiant skin. If a prescription retinoid is too harsh for your skin, try retinol, a gentler, over-the-counter cousin. (We like Roc Retinol Correxion Deep Wrinkle Night Cream.) Since they both can dry out skin, layer a hydrating lotion or cream over serums containing either ingredient (but wait five minutes to let the active ingredient sink in).
Rought spot relief: Glycolic acid
Slather on a body cream laced with glycolic acid before bed to loosen dead skin. Try Lubriderm Advanced Therapy Triple Smoothing Body Lotion. Apply a second layer to extra-dry areas like feet, elbows, and hands. In the morning, use an exfoliating body wash to send those loosened cells down the shower drain.
Puffiness prevention
The flip side of all the good things that happen to your skin while you sleep? "Lying flat for hours causes fluid to accumulate in your face, especially around your eyes," says Dr. Wechsler. Minimize puffiness by keeping your head elevated on at least two pillows and skipping salty foods like sushi with soy sauce for dinner.
Condition while you sleep
Deep conditioning can rescue hair that lacks shine or softness. Still, most women don't have the time to sit still while a messy, goopy formula sinks into strands. Instead, look for hair masks meant for nighttime use. Try John Frieda Frizz-Ease Crème Serum Overnight Repair Formula, which is formulated to go on dry hair, so you won't have to sleep with a wet head. It's also lightweight enough not to leave residue on your pillow.
Tan while the sun's down
Applying self-tanner before bed lets you wake up looking sun kissed and sidesteps the issue of its potentially unappealing scent. Most self-tanners contain DHA, which gives off the odor of uric acid for hours as the color develops. But if you apply it before bed, the smell will be gone by morning, explains Cilmi. (Just be sure the product no longer feels tacky when you hit the sheets.) An alternative: Try lavender-infused Olay Touch of Sun Overnight.
Up next: Multitasking and showers >>