Get Those
Butterflies Again
Ban the quick kiss, share a sexy secret code ... and other itty-bitty ways to make him lovesick for you every day of the week.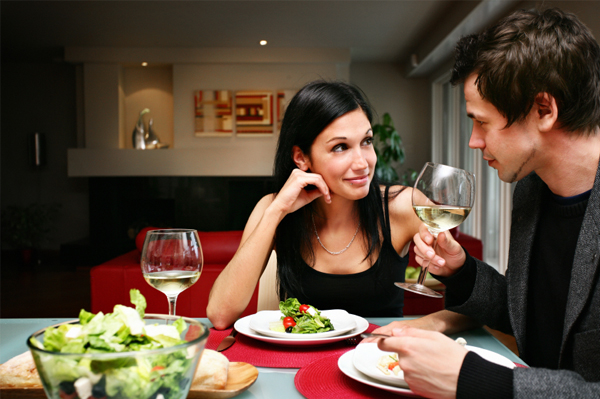 18. Tempt Him with a Slew of Where-to-Find-You Clues
Make your usual rendezvous a million times racier by keeping them mysterious for your man. "I have a standing Friday-evening drink date with my boyfriend," says Sue, a 27-year-old tax attorney. "To keep it exciting, I have this trick for spicing things up: I send him on a treasure hunt ... to find me. I pick an obscure, out-of-the-way bar, one we'd never normally go to in a million years. Then every hour on the hour during the workday, I send my boyfriend an e-mail feeding him clues about where I want him to meet me that night — little riddles that hint at the name, landmarks that will lead him to the location. When he puts all the pieces together, he finds me waiting in the most private booth I can find. Now he's scheming up the next mystery meeting."
19. Hold the Sports Section Hostage
Steal the paper before your guy gets a chance to check out the scores. Place a ransom note on his pillow and insist that your demands for a.m. sex, smooching, and snuggling be met before you'll consider giving him access to the stats.
20. Outlaw Work Talk
Make office gripes and groans a taboo topic when having dinner with your doll. "My boyfriend and I make meals our time," says Anne, a 29-year-old furniture maker. "We talk about upcoming vacations, friends, movies — anything that lets us share ideas instead of bombarding each other with tales of work woes. After eight hours of focusing on other people on the job, it's such a luxurious treat to indulge in some time that's all about us." If professional topics accidentally pop up, quash them by saying, "Get your mind out of the grind and back onto me."
21. Give Him an All-Day "Scentual" Reminder
"The next time your guy sleeps over, spritz a small item of clothing — scarf, underwear, camisole — with your signature fragrance, and slyly slip it into his briefcase or backpack," suggests author Corn. "With your sexy scent wafting out every time he reaches into his bag, he won't be able to take his mind off of you." When the clock strikes 5, he'll follow his nose all the way to your front door.
22. Get a Sound Track
Create your relationship repertoire by picking a few favorite songs (a sentimental score, a sultry in-the-mood croon, a sassy "Feel the Earth Move"-type number) that really capture the essence of your couplehood and make them yours by playing them on romantic, sexy occasions.
23. Compliment Each Other in Public
"My girlfriend tells everyone that I'm the most talented person she's ever met," says Andrew, 28, a teacher. "She'll tell a cashier, 'We'll take a chocolate brownie because my guy so deserves it.' When she introduces me, she says, 'This is my hilariously funny boyfriend' or 'Meet my handsome boyfriend. He puts George Clooney to shame.' My heart jumps every time. I swear it makes going to the deli sexy."
Related articles
4 Ways to sweep him off his feet

21 Little sex moves that will rock your world

Fresh, fun, and sexy date ideas