Get Those
Butterflies Again
Ban the quick kiss, share a sexy secret code ... and other itty-bitty ways to make him lovesick for you every day of the week.
(page 3 of 5)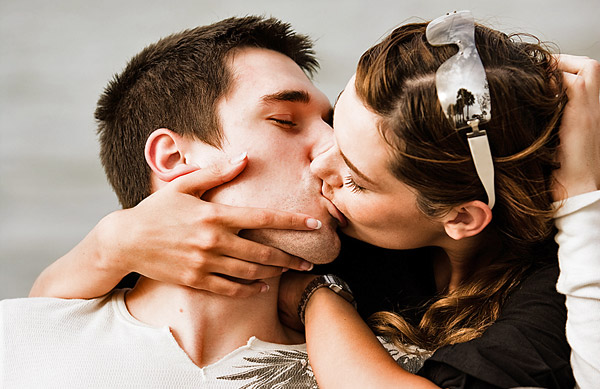 8. Send Him a Sweet Afternoon Treat
If you know your guy's facing a particularly grueling, sucky afternoon at the office, call up a local restaurant that delivers and send him an I'm-thinking-about-you lunch, suggests Ilene Rosenzweig, coauthor of Swell: A Girl's Guide to the Good Life (Warner Books, 1999). Let him know dessert's waiting at your place later.
9. Play the Dating Game
Get out of the same old Saturday-night film-and-food groove. For your next date, come up with three out-of-the-ordinary evening ideas — perhaps a starlit ferry ride, a game of mini golf, dinner at a restaurant with a kind of food you've never tried, or even seen, before — and write them down on index cards, suggests David D. Coleman, coauthor of Date Smart! How to Stop Revolving and Start Evolving in Relationships (Prima Publishing, 1999). "Then, have your guy blindly choose one of the cards and embark on a mysterious, exotic adventure."
10. Keep Him in the Dark
For the ultimate lights-out love nudge, fake a power outage. "Unplug the phone, computer, and TV, then turn off all the lights," instructs Godek. "With nothing else to distract you, you have no choice but to break out the candles and cling to each other as you tell scary ghost stories ... or just plain cling to each other."
11. Ban the Peck
Replace that chaste, no-effort lip graze with a 10-second smooch — and make every single kiss a bit of bliss.
12. Map Out the Hot Spots in Your Neighborhood
Make it your mission to fool around in every prime passion nook of your neighborhood — behind trees, on nearby park benches, under a lamppost. Every time you walk out your front door with your dream guy, hit one of these desire-designated areas until you have the whole area PDA'd.
Next: Try these sexy games to keep the fire burning!>>