Get Those
Butterflies Again
Ban the quick kiss, share a sexy secret code ... and other itty-bitty ways to make him lovesick for you every day of the week.
(page 2 of 5)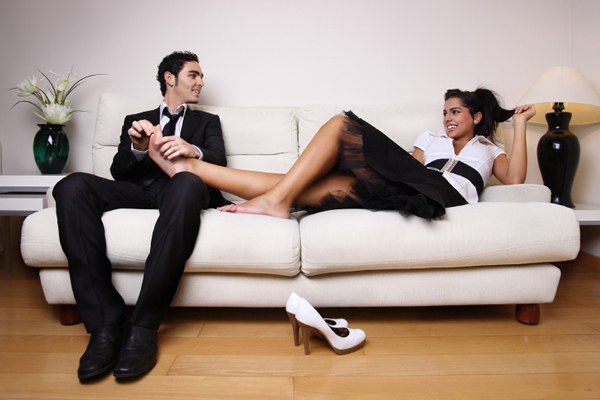 4. Outlaw Grunge-Wear
You and your guy are having a Blockbuster night. But wait, think twice before you change into your lounging-on-the-couch clothes ... you know, oversize T-shirt, shabby sweater. That gear isn't exactly a recipe for a night of making googly eyes. Instead, slip into something a little more comfortable but a lot more cuddle-enticing. "A fitted T-shirt or a semisheer tank top, especially when worn without a bra, is a lot sexier than some too-big shirt you're swimming in," says fashion designer and Cosmo contributing editor Shoshanna Lonstein. "Pair it with your favorite perfectly worn-out blue jeans or khaki cutoffs for a casual but irresistible look."
5. Dish with Him
Flash back to the '50s and get passionate over pots and pans. "Okay, it's totally old-fashioned and cornball, but I find doing dishes together incredibly romantic," says Janet, a 28-year-old chiropractor. "My dishwasher went on the blink one night, and my boyfriend offered to help clean up. We both rolled up our sleeves and got sudsy in the warm water. We talked about the places we'd love to travel to, the crazy things we'd like to try just once in our lives, and our hands kept touching — we just got completely lost in each other as we did this mindless activity. It was so sweet and oddly intimate that I haven't bothered to get the dishwasher fixed."
6. Touch Tenderly in Front of the TV
When you're both chilling out in front of the tube, heat things up with some hands-on action. "Give each other mini foot massages while watching the evening news," suggests Laura Corn, author of 101 Nights of Grrreat Romance (Park Avenue Publishers, 1995). "Or lay your head in his lap and let him stroke your hair." For the ultimate drive-in date experience, invest in an extralong extension cord and watch TV outside on the deck or on lawn chairs on the front stoop underneath the stars.
7. Flash Him
When no one's looking, give your guy a sneak peek in public. Granted, it's not exactly violins-in-the-background romantic, but it's certainly guaranteed to send his heart (and pulse) soaring.
Next: Get mysterious and make him yearn for you!>>