Swimsuits To
Flatter Curves
Flaunt a full figure with retro prints and screen-queen silhouettes.
The Rules:
1. Pear shape? Mix eye-catching print tops and solid bottoms.
2. Use ruching to distract the eye from the waist.
3. Hide flaws and accentuate assets with a one-piece or bottoms with coverage.
4. Skip skimpy -- go for wide bands to keep the look streamlined.
(page 6 of 8)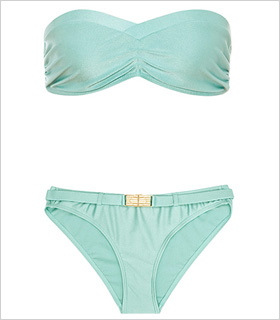 Reiss Metal Trim Bandeau bikini, $95, reissonline.com.