Expert Advice On Fall Hairstyles
When summer ends, update your hair color and hairstyle, along with your wardrobe. To find out what's hot for fall, we went straight to the experts for these fabulous tips and trends for beautiful, healthy hair.
(page 2 of 3)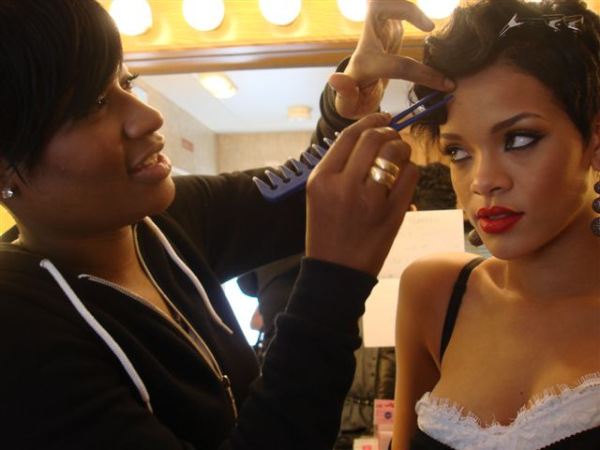 Fall hair trends
5. "Trends in color for fall include dark roots and beautiful color on the ends. Reds - red blacks, cranberry. Deeper richer colors. For fall, heavy bangs are definitely gonna be big, lash teasing bangs. Shoulder length and shorter is still very popular. But most of all its not about short hair or long hair- its about great hair!"
- Ursula Stephen, celebrity hairstylist with high profile clients, including Rihanna (above), Keyshia Cole, Michelle Williams, and America's Next Top Model Winner - Saleisha Stowers
6. "Ponytails! High, low, off to the side, deconstructed, messy, classic, ponytails are it! For quick sexy out-the-door-in-10-minute hair styles. Glamorize your style with tousseled tresses thrown back into a loose tail, add a wide sultry side part, accessorized with skinny barrettes or rhinestone clips, make sure your rubber band used to hold your tail is either clear or matches your hair color."
- Dusty Simington, celebrity hairstylist and 2007 Master Stylist of the Year
7. "Fall represents a time for organization and structure – the beginning of school, end of vacation, crisp cool weather. Sophisticated styles will be popular this coming season. Warm browns, darker blonds, long bob cuts. Women will opt for easily manageable hair, so color-on-color highlights will be great since it brings out shine without making you visit the salon every month. One look not going out of season are the classic Beach Waves – this style works great with any fall fashion."
- Valery Joseph, owner and stylist at Valery Joseph Salon

Healthy hair tips
8. "To keep hair healthy, book an in-salon deep conditioning treatment like Kerastase Oleo Fusion whenever you go to get your color done. It helps smooth out the cuticle and make hair shiny and soft. Follow up on your deep conditioning treatment with a styling product at home. Rub into hair when it's wet."
- Nicholas Penna Jr. from SalonCapri in Newton & Hyde Park, Massachusetts
9. "If you don't have time to wash the oil out of your hair and need a quick fix, all you need is some hairspray, a brush and a blowdryer. Spray a small amount of hair spray onto your hair, use blowdryer and brush together and blow your hair with a brush, preferably my favorite, a Mason Pearson. Repeat as necessary."
- Noel Reid-Killings, celebrity hair stylist for many awards ceremonies, ABC's Extreme Makeover, and talk shows "Oprah" and "Ellen"
10. "Use thermal protectors or silicone products midshaft to ends prior to heat styling and avoid brushing hair while it is still wet. Use a wide tooth comb to eliminate tangles, hand dry moisture from hair first then finish with your favorite boar bristle brush. Healthy hair is synonymous with beautiful hair. Take time to deep treat hair at home and a seasonal hair and scalp treatment at your salon. Avoid hot water on your hair. Shampoo and condition hair at the beginning of your shower and leave the conditioner on until the end. Avoid aggressive rubbing with your towel. Pat hair dry instead."
- Cynthia Porcelli-Niemyjski of Genacelli Salon in Chicago

Next page: The best haircuts for different face shapes, choosing the right hair color