Fashion Tips From
Finola Hughes
The talented and beautiful Finola Hughes may be best known to you as Anna Devane from "General Hospital" but Finola is more than just an actress. She's a mother, a wife, a dancer, a jewelry designer and a fabulous fashionista.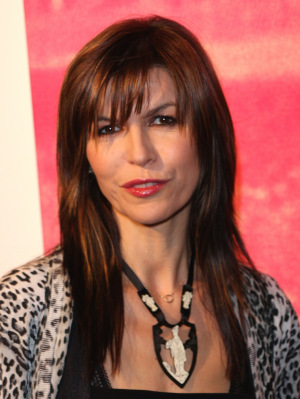 Since 2004, Finola Hughes has been the host of the makeover show "How Do I Look?" on the Style Network. Finola was kind enough to provide SheKnows with an exclusive interview, which includes some fabulous fashion tips.
SheKnows: Many people first knew you as Anna Devane on "General Hospital," how did you make the transition from soap opera star to style expert?

Finola Hughes:
I have always had a passion for both acting and fashion. Living in New York City while taping "All My Children" opened up many opportunities to meet people in the fashion industry, learn new things about style and eventually meet the right people at the Style Network. But I'm not through with daytime television just yet. Anna will be making an appearance later this month.

SheKnows: Have you always been a fashionista?
Finola Hughes:
I have been a fashionista for as long as I can remember. My interest in fashion, and for finding a great bargain, began while shopping in thrift stores as a child in London, and walking through the Portobello Road Antiques Market with my mother on Saturdays.
SheKnows: What's the best part of hosting "How Do I Look?"
Finola Hughes:
The absolute best part of hosting "How Do I Look?" is when the women we makeover reveal their new looks, and feel as if they have learned a little something about themselves through the process. We go to great lengths on the show to help hold a proverbial mirror up to the guests' lives in more ways than just fashion, and it is very rewarding to see them take to it.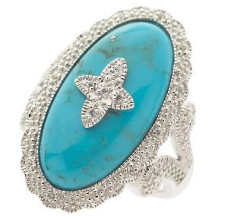 SheKnows: You have brought your amazing sense of style to QVC with your own jewelry line. Tell us a little bit about your jewelry collection.
Finola Hughes:
Jewelry
is about personal style and sentiment. I like to combine fashion flair and trends with pieces you can keep and love forever. There is a vintage-inspired feel to much of what I create which builds upon my experience of scouring antique markets as a child. I always try to strike a balance between fashion and refined elegance – with my jewelry line and in my own personal style.
SheKnows: And as a follow up, what's your personal favorite piece of jewelry?
Finola Hughes:
My favorite piece of jewelry is an amber necklace that was my Mother's.
SheKnows: Where are your favorite places to shop (either online or retail stores) for accessories?
Finola Hughes:
As I mentioned, I love great vintage finds – it's those unique pieces with character that are so special. I also love browsing eBay and H&M is always a great place for good trends at a great price. My all-time favorite, though, is the Kirna Zabete boutique in New York City. The ladies who own this store have stellar taste, and it is impossible to leave there without spending money. Some of my other favorite stores in New York City are IF and Opening Ceremony.
SheKnows: Busy women are always on the go. What accessories can women add to make their clothes easily transition from daytime to evening?

Finola Hughes:
Often times we don't have time to stop at home to change outfits before dinner or a date, and key accessories can dress-up any daytime outfit. A little bit of sparkle in bold pieces can do the trick.
I suggest pumping-up the intensity of an outfit with a chic sequined scarf, a vintage piece, or gold sandals and statement jewelry – try a large architectural necklace, ring or brooch. Swap your work bag for a crocodile clutch and throw on a long tuxedo jacket from Rag & Bone over a tailored shirt and slim jeans. Fabulous sunglasses – for day or night – are always a great accessory and make you look incredibly glam! And, make sure to keep a tube of berry-colored lip gloss in your purse to finish off your look.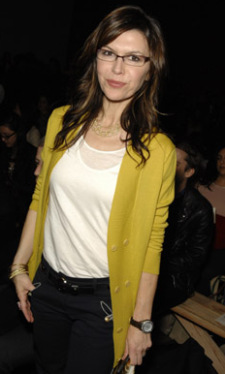 SheKnows: Many women are trying to update their wardrobe without breaking the bank, what three accessories are trendy and affordable this season that will make a fashion statement?

Finola Hughes:
As a busy mom-on-the go, I have had to become an expert at making fashion meet function, and I try to help other women like myself stay on trend without breaking the bank. I advise women to update their wardrobes with key accessories – pairing trendy items with things they already have in the closet.
This spring, I recommend getting a bold ethnic or vintage printed scarf that can be easily and fabulously paired with just about any outfit for an elegant look. Bright-colored platform sandals also make a dramatic statement by adding a pop of color and flair to your ensemble.
And, of course, you MUST update your eyewear – if you're over 40 make sure you are using a progressive lens to ditch those bifocal lines. I just switched from "readers" to
Varilux with Crizal
lenses, because of course, if you can't see clearly, you can't go shopping!
SheKnows: What is your personal favorite trend in accessories this spring?
Finola Hughes:
This spring my best accessory is my eyewear, which helps me see near, far, and everything in between. I think everyone should make eye health a priority and update their eyewear so that they are both fashionable and functional. You should have a couple pairs to mix and match with different styles, and don't forget about sun wear – they protect your eyes while helping you look super stylish.
SheKnows: Thank you very much for your time.
Finola Hughes:
Certainly, my pleasure.
More exclusive SheKnows interviews