10 Trends You'Ll
Regret In 20 Years
Certain trends are so exaggerated and ubiquitous that they define our time. And for every huge trend, there is unavoidable backlash. No matter how cool we think we look today, it's inevitable that in twenty years what we're wearing now will be dated.
(page 7 of 10)
7. Bringing back the 80s
After spending the 90s mocking the trends of the 80s and being embarrassed that we ever sported them, these bad fashions have been making a comeback.
Suddenly, wearing leggings (or -- worse yet -- leg warmers!) and ballet flats with belted t-shirts is acceptable again. And the off-the-shoulder look has come back faster than you can say "Flashdance."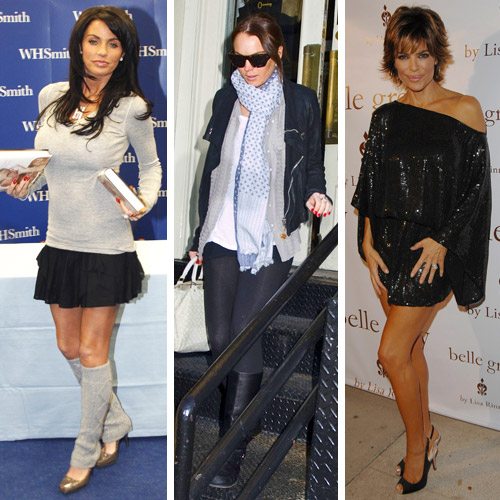 Going 80s retro: Katie Price (aka Jordan) in leg warmers; Lindsay Lohan in leggings;
Lisa Rinna in an off-the-shoulder dress