Terrible Celebrity
Plastic Surgery
In a town where looks are everything, Hollywood stars spend a pretty penny on cosmetic surgery to maintain or improve their appearance. Or so they think. Some celebs, like the ones featured below, come out of the plastic surgeon's office looking more like horror flick villains than anything remotely human -- let alone people to whose looks we are supposed to aspire. Here are a few of the worst "bad plastic surgery" victims/offenders, ranging from the terrifying to the too-tight to the just plain terrible.
(page 6 of 6)
Bad plastic surgery: Mickey Rourke
Sadly, this isn't just a bad shot of Mickey Rourke -- his lips are pouty like this all the time now. And the character lines that were there at the height of his career (meaning the era of "9-1/2 Weeks") have been scrubbed away, leaving only pinkish skin that looks like would be painful if touched.
Sadly, it seems that Mickey's career collapsed when his rugged good looks disappeared under the surgeon's knife.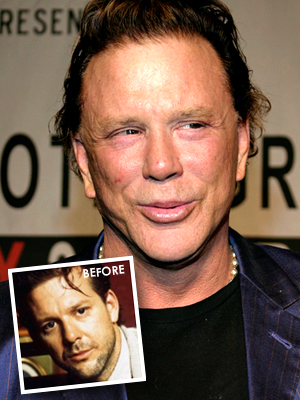 If any of these people look good to you, before booking a cosmetic surgery procedure, please stop, take a deep breath, and check out this article in the UK TimesOnline: Plastic surgery: the new addiction. Why? Because we care, and really don't want to have to feature you on our bad plastic surgery pages.
Get more info on plastic surgery >>