Terrible Celebrity
Plastic Surgery
In a town where looks are everything, Hollywood stars spend a pretty penny on cosmetic surgery to maintain or improve their appearance. Or so they think. Some celebs, like the ones featured below, come out of the plastic surgeon's office looking more like horror flick villains than anything remotely human -- let alone people to whose looks we are supposed to aspire. Here are a few of the worst "bad plastic surgery" victims/offenders, ranging from the terrifying to the too-tight to the just plain terrible.
Bad plastic surgery: Kate Jackson
True, Kate Jackson doesn't look 58. But she doesn't look quite normal, either.
Formerly one of the stars of Charlie's Angels (she played Sabrina Duncan from 1976 to 1979) and The Scarecrow and Mrs King (as Amanda King, 1983 through 1987), the newly slanty-eyed, taut-skinned actress has been relegated to the occasional television guest spot and roles in made-for-TV movies.
At least Kate Jackson apparently didn't get the lip filler. Kudos for that. Are you listening, Pete Burns?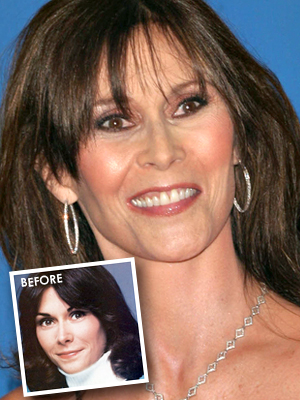 >> Next page: Mickey Rourke
---