Terrible Celebrity
Plastic Surgery
In a town where looks are everything, Hollywood stars spend a pretty penny on cosmetic surgery to maintain or improve their appearance. Or so they think. Some celebs, like the ones featured below, come out of the plastic surgeon's office looking more like horror flick villains than anything remotely human -- let alone people to whose looks we are supposed to aspire. Here are a few of the worst "bad plastic surgery" victims/offenders, ranging from the terrifying to the too-tight to the just plain terrible.
(page 4 of 6)
Bad plastic surgery: Priscilla Presley
Here's one of the world's most tragic beauty losses: Priscilla Presley's once-gorgeous face is gone. Had she just left well enough alone, she probably would have aged like a fine wine.
Since she can't turn back the clock, let's just hope that after seeing the damage surgeons wrought to her mom (below) and her ex-husband (above), Lisa Marie Presley has the sense to leave her good looks alone.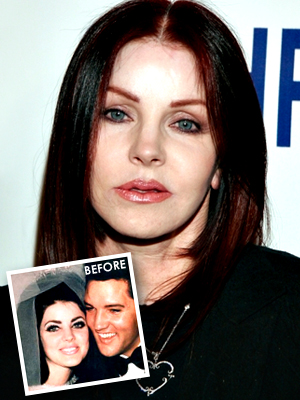 >> Next page: Kate Jackson
---