Terrible Celebrity
Plastic Surgery
In a town where looks are everything, Hollywood stars spend a pretty penny on cosmetic surgery to maintain or improve their appearance. Or so they think. Some celebs, like the ones featured below, come out of the plastic surgeon's office looking more like horror flick villains than anything remotely human -- let alone people to whose looks we are supposed to aspire. Here are a few of the worst "bad plastic surgery" victims/offenders, ranging from the terrifying to the too-tight to the just plain terrible.
Bad plastic surgery: Michael Jackson
Believe it or not, this guy here used to be black! For reals.
Once known as a stellar musician and dancer, now he's most notorious for scaring adults and children alike with both his artificially destroyed appearance and his beyond bizarre behavior. (Note the oogy veiny bits on the end of his nose.)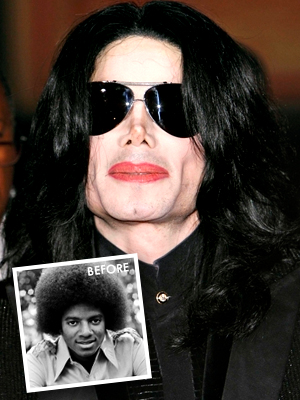 >> Next page: Priscilla Presley
---