Terrible Celebrity
Plastic Surgery
In a town where looks are everything, Hollywood stars spend a pretty penny on cosmetic surgery to maintain or improve their appearance. Or so they think. Some celebs, like the ones featured below, come out of the plastic surgeon's office looking more like horror flick villains than anything remotely human -- let alone people to whose looks we are supposed to aspire. Here are a few of the worst "bad plastic surgery" victims/offenders, ranging from the terrifying to the too-tight to the just plain terrible.
(page 2 of 6)
Bad plastic surgery: Pete Burns
Former one-hit-wonder for the '80s single "You Spin Me 'Round (Like a Record)" with his old band Dead or Alive, Pete Burns is now best known for his downright scary facial destruction surgical makeover.
Apparently, Mr Burns hasn't seen enough of the world to realize that in the typical homo sapiens, the top lip isn't actually supposed to be the same thickness as (or thicker than) the bottom lip. Just ask Meg Ryan -- she learned the hard way.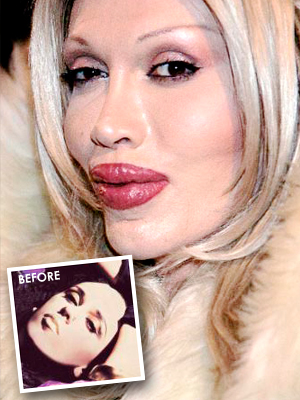 >> Next page: Michael Jackson
---