Makeup Basics
These makeup basics should be on every girl's must-know list no matter the season. They will keep you looking fabulous as all the trends come and go!
(page 2 of 5)
2
How to create a custom cat eye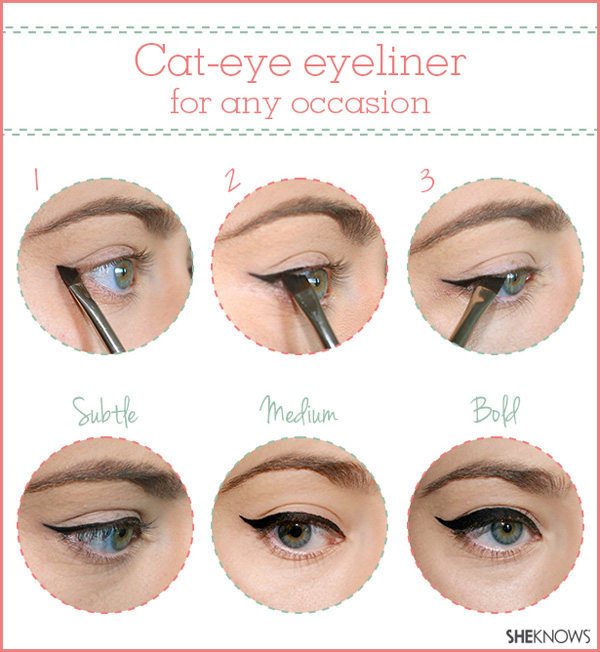 The cat eye has become a classic and you can dress it up or down simply by changing the intensity and thickness of your line. Follow this tutorial for a subtle cat eye and learn how to amp it up to a more dramatic liner style.
Supplies:
Loose powder
A small angled brush
Pot of eyeliner (or eyeliner pencil)
Instructions:
Start by powdering the entire eye area. Loose powder is preferred but pressed will do if that's all you have. This will absorb the natural oils your eyelid produces and will help keep your eyeliner in place.
Take a small angled brush and dip it into a pot of eyeliner. If you only have an eyeliner pencil, be sure it's sharpened to a fine point.
Start by creating the "wing" of the cat eye first. Begin just slightly away from the outer corner of the eye, laying the brush or eyeliner pencil at a slight angle. As a guide, the direction of the wing should point at the end of your eyebrows.
From that outer eye corner, gently swipe your eyeliner toward your inner eye. For a subtle cat eye, be sure to keep the eyeliner hugging your eyelashes closely.
Look closely and if there are any "bumps in the road" or it doesn't look smooth, go back and fill those areas in with a little more eyeliner. Use your brush to shape and smooth.
Repeat on the other eye.
For an extra bold look: After you've done the above steps, go back to the outer wing. At the tip top of the wing, apply more eyeliner and create a thicker line, continuing along the entire lash line.
Pro tip: Try using a waterproof or long-lasting eyeliner for this look. It will prevent smearing so you can rock your cat eye all day!
Up next: How to get your skin to glow >>