Bloomingdale's
curbing return fraud
Bloomingdale's is now outfitting its clothes with a conspicuous black tag. The point? To keep you from wearing — and then returning — that dress.
Imagine this scenario: You need an outfit for that fancy work party, but your bank balance is sitting at $5.04 until payday — in two weeks.
"No problem," you think to yourself. "I'll just buy a dress on my credit card, keep the tags on and return it the next day."
Admit it, we've all done this at one time or another. It's referred to as "wardrobing" — and retailers are taking notice. The practice cost retailers an estimated $8.8 billion last year according to the National Retail Federation, mostly because it's hard to resell clothes that have already been worn.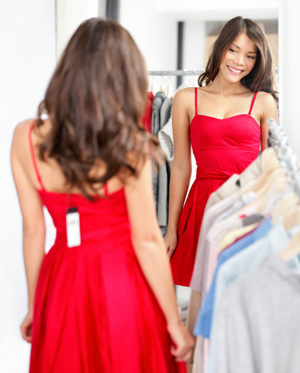 All stores have return policies, but Bloomingdale's is the first retailer to take an active step against wardrobing. Clothes from the store are now tagged with a label that's difficult to hide during wear, and if the customer removes the label, the clothes are ineligible for return.
"It is a delicate balance of loss prevention and good customer service, and the relationship has to be handled with appropriate finesse," Rich Mellor, vice president of loss prevention at the NRF, told The Washington Post.
Bloomingdale's is the only retailer to admit to this practice... so far. While we can understand the business' need to cut down on waste, we are far less likely to drop cash at a retailer with a shady return policy.
At least Nordstrom is still on our side.
"Our experience is that if you treat the customer with respect, they respect you back," company spokesperson Colin Johnson told the Post.
Tell us
How do you feel about the new return policy at Bloomingdale's? Sound off below!
More fashion news and trends
How Fashion Week trends trickle down to the masses
Women dish on their most embarrassing wardrobe malfunctions
First look: Catherine Malandrino for Kohl's