The Hunger Games: Catching Fire isn't in theaters until Nov. 22 but if the fashion is any indication of the film, expect it to be epic. From Katniss Everdeen's gorgeous wedding dress to Effie Trinket's over-the-top couture creations by Alexander McQueen, Trish Summerville is sewing and telling.
SheKnows: How did you decide on what designers to use?
Trish Summerville: When this film came about, I went through and looked at people who could really bring something to the Capitol. With Effie and Alexander McQueen, I just felt like Sarah Burton's work and McQueen archive pieces so fit the character of Effie so that seemed like a really logical decision. We hoped that they were willing to work with us and participate and they were really kind and really generous in what they offered. For the rest, there are pieces I designed and pieces I use from other designers depending on the character. I try and use designers who are named and known and then also young fledgling designers who are up-and-coming.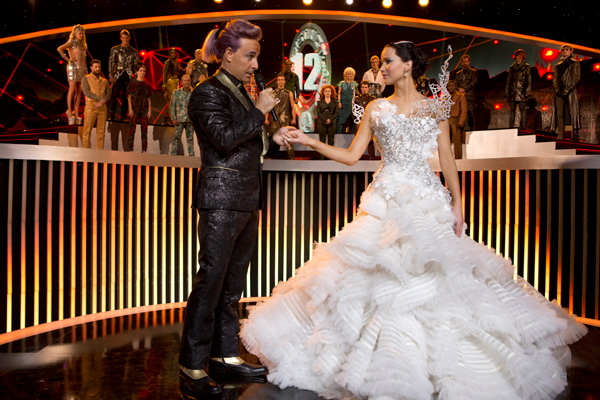 SK: Jennifer Lawrence's ornate wedding dress was designed by someone relatively unknown. How did that come about?
Did you know? The wedding dress took two months to complete and had thousands of Swarovski crystals according to designer Tex Saverio.
TS: I did a collaboration with Tex Saverio, and he's a designer from Jakarta. I've been following him for a couple of years and was waiting for the opportunity that I could use some of his pieces since they're pretty extreme and intricate gowns. So when it came to the wedding dress, his pieces fit perfectly because there's so much detail in them and they're not what you'd [traditionally] consider a wedding dress. We just worked via Skype and figured out the design and what elements we needed and what we needed to be functioning about it and how the dress could lift and have enough volume but be light enough to get air under it.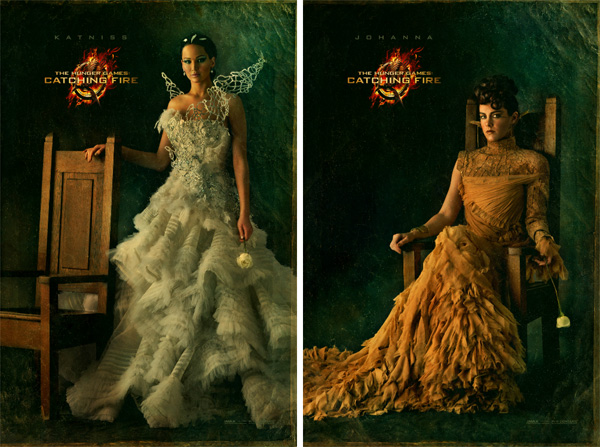 SK: What was Jennifer's favorite look from the movie?
TS: She really loved her President Snow gala party dress and her Mockingjay dress. The gala dress incorporates a flame and fire aspect that's a subtle thing that she's even unaware of that Cinna's put into her clothing as Girl on Fire. Then for the stage interview, that Mockingjay dress is literally a screen printing of feathers that are a combination of bluejays, mockingjays and peacocks.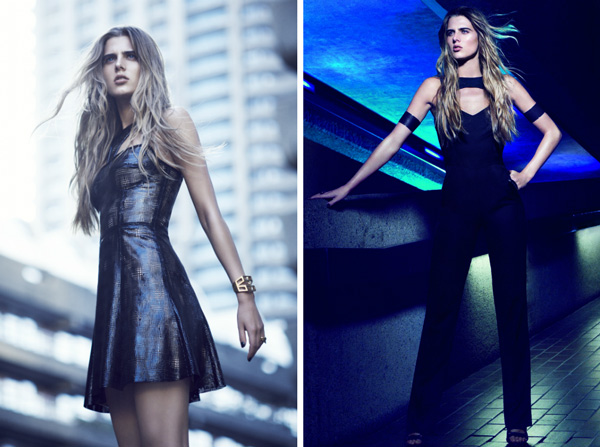 SK: Tell us about the Catching Fire-inspired capsule collection for Net-A-Porter you're doing.
TS: We did a capsule collection and it's based on some of the pieces from the film, mainly from Katniss' pieces. We did an interpretation of them to make them ready to wear for the Net-A-Porter customer. There are a couple of dresses quite literally from the film and then the rest are a loose interpretation. There's also a leather outfit that's a nod to Cinna.
SK: Were there any wardrobe malfunctions on set?
TS: Luckily, there were not. We might have had a zipper pop here or there at some point, but nothing to cause anyone any embarrassment!
More on The Hunger Games style
Jennifer Lawrence's Hunger Games red carpet style
The Hunger Games style: Tribute-inspired fashion
The Hunger Games style: Capitol-inspired fashion
Photo credit: WENN.com, Net-a-Porter, Lionsgate