SheKnows: What are your top three beauty essentials?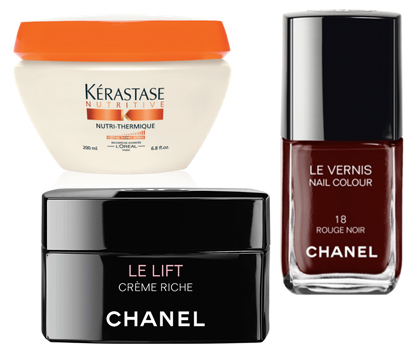 Hiroko Fujikawa Mori: My top three beauty products are Kerastase Masque Nutri-Thermique, Le Lift Crème from Chanel and Chanel Nail Polish: Rouge Noir.
SK: Do you have a celeb fashion crush?
HFM: My celebrity fashion crush is Sienna Miller. I think she always looks great and wears really fashion-forward pieces.
SK: What about a celeb nail crush?
HFM: My celebrity nail crush is Vanessa Hudgens. I love going to her Instagram and seeing all the nail art photos she posts. Vanessa loves to take it to the extremes whether it's something crazy and fun or simple and elegant. I love that she goes back and forth between her natural nails and wearing tips.
SK: Do you have any DIY nail art tips?
HFM: For a DIY tip, I always use bobby pins to make polka dots. By using the different sides of the bobby pin you can create various polka dot sizes. Also I use the tip of a pen for flower petals, this way you can make equal-sized dots. Afterwards, you can take a toothpick and make lines in the middle of the dots while pulling the color to the middle.
SK: Nail art is really converging with fashion and people are taking inspiration from fashion designers to design cool nail art. Why do you think the two worlds are combining so much and do you see the trend continuing to grow?
HFM: This season I am seeing a lot of different styles of plaid on the runways. I think the trends from runway fashions to nail art will continue to grow because nail design has become a piece of the overall look… nails are another accessory!
SK: What nail trends are hot for fall?
HFM: This fall, the hot nail trends are colorblocking and plaid.
SK: What's your go-to nail look to wear on your own fingers?
HFM: I like to keep my nails simple and play with lots of colors instead of drawing or painting designs. I love playing with various color combinations and seeing what new, creative look I can come up with.
More beauty chats
Beauty chat with Cos Bar owner Lily Garfield
Refinery29's Annie Tomlin
Rue La La's Jackie Nasser