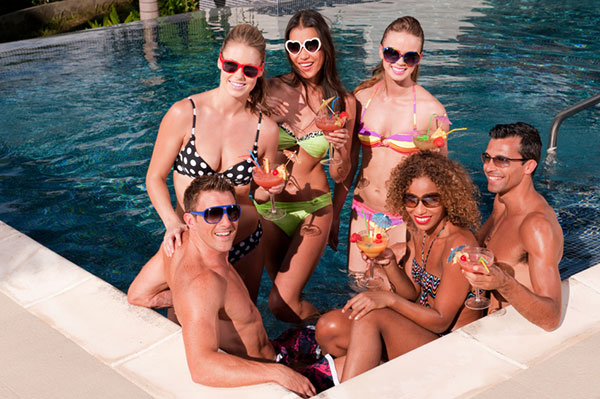 Make a splash
with a pool party
Labor Day marks the end of summer, and what better way to reminisce than one last pool party? Here's your guide to hosting a pool party that will have guests already excited for next summer.
When Labor Day arrives on the calendar, summer is drawing to a close. However, you can make one last great summer memory by hosting a pool party. Not sure where to begin? Here are some tips that will help you host a killer party.
Music
Music is essential to a great pool party. If your budget allows, hire a live musician or DJ. That way, guests can request their favorite songs, and the DJ can change tunes based on the mood of the party. If your budget doesn't have room for a DJ, spend some time before the party loading some upbeat tunes onto your iPod or downloading them to a CD. Avoid playing the radio because commercials can often last several minutes — just enough time to take the mood of the party down a notch.
Not sure which tunes to play? It's best to use upbeat party tunes, but not ones that will distract visitors. It's always good to look at your guest list and gauge which songs are likely to be more popular. Teenagers will enjoy a different set of tunes than their parents. Rule of thumb: A good mix of classic rock and current pop is usually a hit with guests.
Food
Food served at pool parties should be light — after all, no one wants to jump in the pool after downing a four-course meal. Don't serve anything that can easily spoil in the sun, either. Labor Day is a great time to roll out the grill one last time for the season, so hamburgers, hot dogs and grilled veggies are all easy and tasty choices.
Finger foods are also easy for guests to eat, especially if they're taking a break in between pool romps. Vegetable trays and fruit on skewers are possible choices, as well as chips and spinach dip — though be sure to keep any dips chilled with ice to avoid spoilage.
Don't forget drinks as well. Lemonade is always a great summer staple, but another tropical choice is coconut juice.
Games
Games are great for getting everyone involved at a pool party. Plan a treasure hunt by throwing trinkets to the bottom of the pool and having guests dive for them. There's also pool volleyball and simple relay races.
Ambience
While having a party theme is one of the easiest ways to generate a fun atmosphere (think pirates or a Hawaiian vacation), you can surprise guests with extra little touches of festiveness. Use tiki torches if your party is at night and hand out leis as fun party favors. Grab those Christmas lights out of the attic and string them around your fence.
Paper lanterns will add color to your backyard, while beach balls and umbrella drinks will leave guests feeling like they're at the beach. Toward the end of the party, as guests relax by the poolside, serve champagne for the adults and fun ice cream sandwiches for the kids.
More summer fun
End-of-season pool party
Bring back the block party
Summer drink and makeup ideas