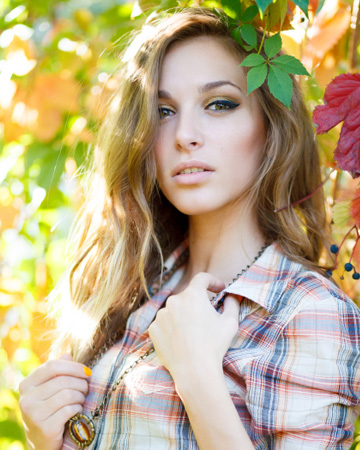 beach locks that will last all fall
Summer is coming to an end, but that doesn't mean your sexy beach waves have to go! In order to maintain that carefree tousled look, try these simple tricks to keep your hair looking hot all year long.

If you want a quick way to get those beachy locks, try using a sea salt spray.
Spray wet or damp hair all over with the product.
Flip hair upside down and tousle for volume.
Twist small sections of your hair for extra texture and curls.
To get the look at home, we recommend Bumble and Bumble's Surf Spray ($25). It works on all hair types and keeps the frizz down! If you don't quite have the funds for this product, making your own salt spray is a cheap way to go.

At night before you go to bed, air dry your wet hair until it is damp. Add a lightweight mousse throughout your hair such as Herbal Essences Tousle Me Softly Tousling Hair Mousse. This whipped mousse will leave your hair smelling wonderful and frizz free. Next, place your hair in two buns on top of your head, one on the right side, the other on the left. To make these buns:
Take a section of hair and twist.
Wrap the twisted section of hair into a bun.
Secure with hair tie.
Give these buns a couple of sprays of sea salt spray and go to bed. In the morning, take your hair out of the buns and run your fingers through the curls, loosening them up into more relaxed waves. Add some extra salt spray to your hair and tousle to get that finishing touch.

Another great way to achieve those babe-like beach waves is by using a three barrel curling iron. For this method, work with small sections of dry hair. Starting from your roots, clamp your hair in the three barrel for five to eight seconds and then move down the section of hair, stopping about an inch before you reach the ends of your hair. Be sure to use a heat protectant spray in order to avoid heat damage to your locks. Once you have finished three barreling all of your hair, add a few sprays of sea salt spray and you are good to go!
More beauty
6 Sexy fall hairstyles
10 Go-to beach products for beachy waves in the winter
2 Bedroom hairstyles to wow your guy