(page 2 of 2)
At a promotional event for the CW, AnnaSophia showed up looking classically beautiful in a black and white dress, siren waves and pinup makeup. Sonia shares her suggestions for stealing the star's look.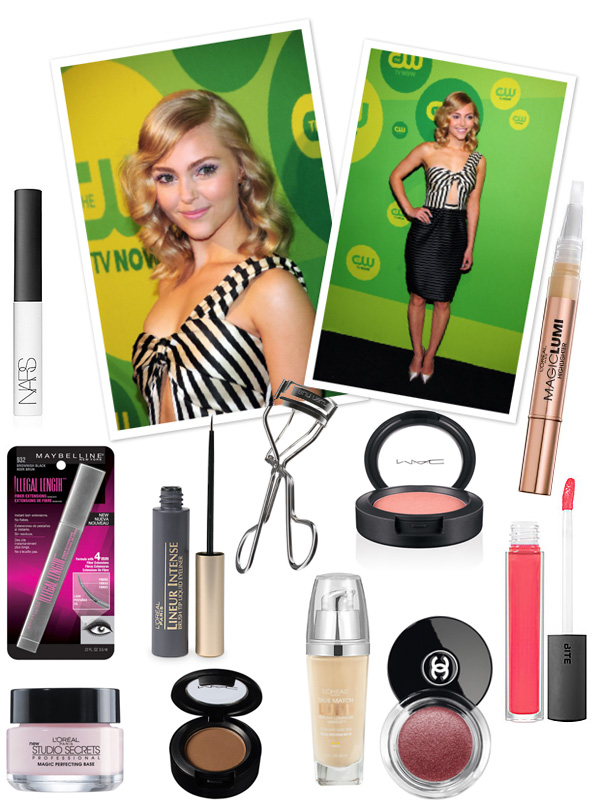 Before applying your foundation, start off by prepping skin with Shiseido Oil-Free Pureness Matifying Moisturizer and L'Oreal Studio Secrets Smoothing Resurfacing Primer.
Next, using your fingers and a sponge to blend, apply L'Oreal True Match Lumi Healthy Luminous Foundation. Blend down toward the neck and blot with a tissue when finished. Blotting takes any excess oil out of foundation and leaves skin smooth and matte. Sonia's tip: The better the natural condition of your skin, the less need there is for foundation, so pay attention to skin care!
Time to highlight! Choose a shade a couple of shades lighter than your skin. Sonia's recommendation: L'Oreal Magic Lumi Highlighter.
Using a flat, round sponge, dust loose translucent powder over the face to set the foundation.
Taking an eyebrow brush, gently sweep eyebrows upwards. Sonia likes to apply MAC eyeshadow (shade: Cork) to eyebrows. Using an angle brush, use light strokes to fill in areas of your eyebrows that are uneven. You can wet the brush to create a long-lasting tint as well. Clean the brush to brush them one final time.
Open up your eyes by curling with Shu Uemura eyelash curler. Sonia's tip: Make sure you don't squeeze any part of skin, only the lashes.
Before applying eyeshadows, use NARS Eye Primer on eyelids. Next, use Chanel Illusion D'Ombre #86 Ebloui on eyelids. For eyeliner, use L'Oreal Paris Brown Liquid Eyeliner and Make Up For Ever Aqua Eyes Eyeliner in Turquoise.
Apply Maybelline Illegal Length Mascara at the lash line and then brush it upward and forward.
Give cheeks a rosy glow by gently brushing on MAC Stay Pretty Blush.
Finish off the look with Bite Beauty Lip Gloss. Sonia's tip: Mix two different shades to find your perfect match!
H&M is a young, fun brand, so it's no surprise that AnnaSophia opted for this colorful, flirty eye makeup to attend an event for the store. Here, Sonia offers her tips for recreating the look at home!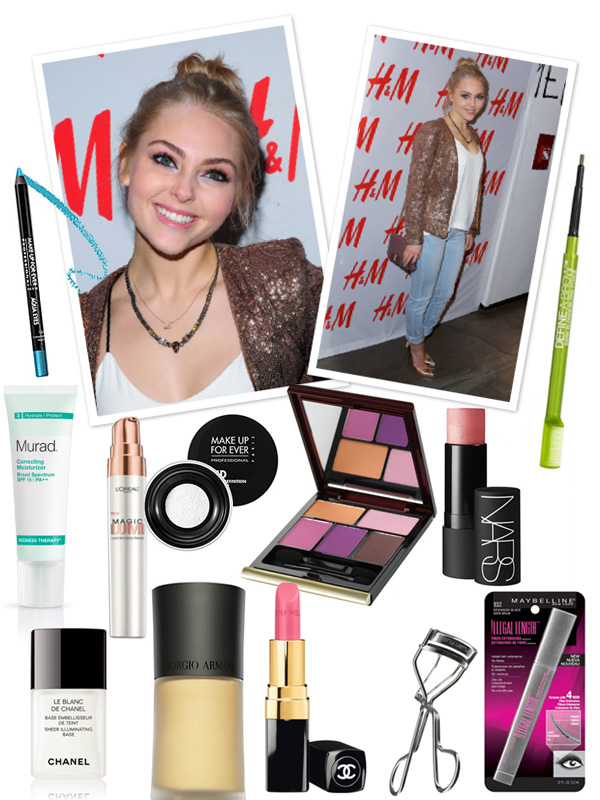 More makeup profiles
Amy Adams' beautiful makeup
Diane Kruger's classic look
Chloe Grace Moretz's youthful glow
Photo credits: Dan Jackman/WENN.com