SheKnows: What inspired you to develop a nail polish collection?
Adrienne Bailon: My nail polish line is called Fingertip Fetish. It actually started out with a blog that I had on my website: AdrienneBailon.com. It's a vegan line. We actually decided to do it because when my sister was having a baby, she went to the extreme — she wouldn't dye her hair, she like wouldn't even get her nails done because your nails are porous. This is a non-toxic formula, no animals are hurt while making this product, and I'm really excited and happy about that for moms like my sister.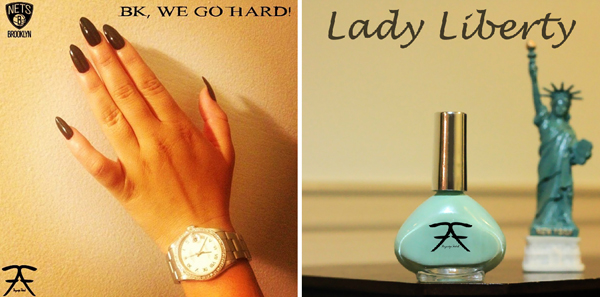 SK: How did you pick the colors?
AB: The colors for the collection are amazing and they are all inspired by New York City. The first collection is called "Made in NYC" and all the colors are named after different parts of the city, so we have a yellow: "Hail a Cab," "Lady Liberty" is a mint green, "Concrete jungle" is gray. We have a silver that's called "Metro-Metallic," "Queens Rope Chain" is a gold color. We have "El Barrio" which is my classic red nail polish that all my aunts wore.
SK: Why a nail line?
AB: I have an obsession with hands and nails. It's actually the first thing I notice on everyone. I love nail art so this [shows her nails] is actually the lyrics to the Jay Z song: I don't pop Molly, I rock Tom Ford. Magna Carta Holy Grail.
SK: Will there be a second collection? Will it be named after a city?
AB: That one will actually drop the top of next spring. I have an idea. We're thinking of doing cocktails.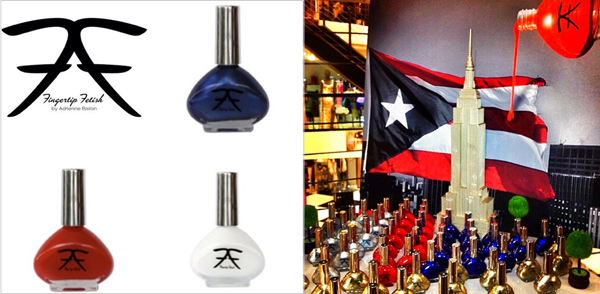 SK: What is your morning beauty routine?
AB: I brush my teeth and I get in the shower. I love to exfoliate my skin every single day. All over my body, face, I use Garnier's daily exfoliator. It's my favorite. Then, I shampoo and condition. I actually wash my hair almost every single day. I use a skin brightener and tightener when I get out of the shower, on my face. On my body, I use body butter by The Body Shop. My favorite scent is an orange clementine scent. Then, I scrunch my hair and put it in a towel. Then, I start my makeup.
SK: What is your favorite makeup?
AB: I am a drugstore whore. Like, I have a problem. I think that's great to tell girls that you don't have to spend like $100 on a foundation. I use L'Oreal True Match as my go-to. My contour is a Revlon and I have this liquid finish foundation that I finish off my makeup with — I don't know what's it's called.
SK: What about eyeshadow, mascara?
AB: Eyebrows, I'm obsessed with Anastasia's brow kit. That's probably the thing I splurge on. I actually don't like to use a lot of eyeshadow. I'm a fan of just doing cat eye and some great lashes on with a pop of a lip. My everyday go-to is Wink eyeliner, and my favorite liquid eyeliner is by NYC or wet n wild.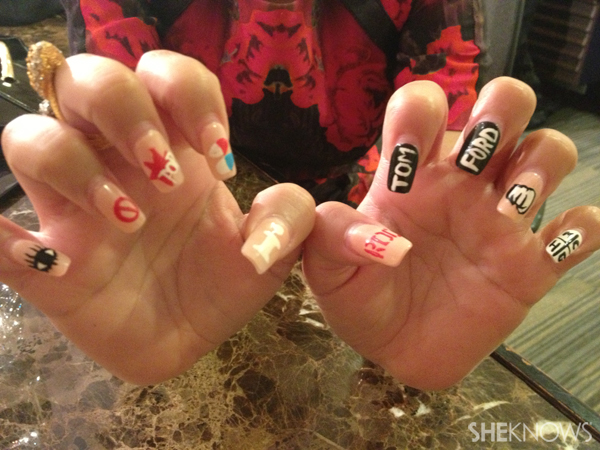 SK: What are your beauty obsessions at the moment?
AB: I had an obsession with baby oil during the summer. I had to get over that because it kept staining all my clothes, but before I go to bed at night, I take another bath. I have to take a bath before I go to bed and I literally bathe myself in baby oil and go to sleep, so my sheets say that I'm like an oily mess, but I just don't care. I love the way baby oil feels. Good ol' Johnson & Johnson.
SK: What is your biggest beauty blunder?
AB: I loved being blonde. The problem with that is I'm not a natural blonde, and I used heat on my hair every single day [while filming] the show The Real, we actually shot two shows a day. That was two different hairstyles a day, getting my hair done five days a week, which was horrible for my hair. I came back with the whole front of my hair broken off. So, we're bringing it back to recovery. It's getting better. We're getting there.
SK: What's the best beauty advice you've ever received?
AB: Wash your face at night.
SK: What's in your beauty bag?
AB: It's disgusting. I have four different mascaras, lip glosses. It's a lot. I actually have way more than this — that's what I brought. I have a problem. Almost everything in there is Duane Reade. It's all drugstore stuff.
SK: Do you feel like there is a beauty trend that should come back from the '80s or the '90s or even the '70s?
AB: I would not be mad if a heavy blue eyeshadow/blue mascara had a moment. It looks great and makes your eyes look lighter. I just don't want to see it with a red lip.
SK: Do you have a beauty icon?
AB: Bianca Jagger. She's a Latina from Nicaragua. She has really strong features and was a fashionista, and I loved that she was an exotic beauty, and I love that she embraced that. I just think she's timeless and funky and fun.
SK: What do you use to take all the makeup off?
AB: I can't use makeup wipes. I feel like that's not taking off your makeup. I also can't wash my face in the sink. I can't stand the running down of water on my elbows.... I have to take a bath, I have to take a shower. I have to feel like it's completely all off.
More celebrity beauty
Emmy Rossum's beauty tips
Lauren Conrad shares fashion advice
Celeb hair transformations we love