SheKnows: What are your top three beauty essentials?
Dana Avidan Cohn: I have deep set eyes so the Touche Éclat luminizing pen by Yves Saint Laurent was a game changer for me. I keep it in my bag for touch ups if I have an event to go to. I use #2.5.
If I could, I would be tan all year round. I have an olive complexion and it looks the best in the summer. To keep that look up in the fall, I use a bronzer every day, and Giorgio Armani's 'Bronze' Palette is so natural looking.
I am really into a natural look and this nude lip from Dior gives just the right amount of tint.
DAC: We hear from a lot of women how hard it is to find basics that fit. The TrioFit sizing system allows women to shop by their bra size (32B to 40H) and receive a nearly custom fit shirt, something women did not have access to for years.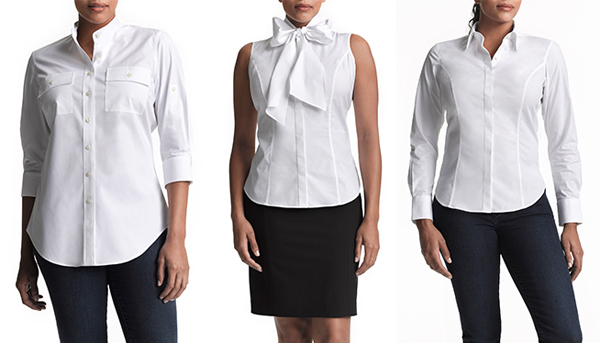 SK: A white blouse is a wardrobe essential, but it can also feel kind of boring. How do you like to style yours to spice it up a bit?
DAC: I love the simplicity of a well-fitted white shirt, actually. To make it feel new and modern, I would button the shirt to the top, tuck it into a patterned or textured skirt, and wear it with brogues. Or for a more relaxed look, I would open the collar, add a fun necklace and pair it with tailored boyfriend jeans and a colorful pump.
SK: Who's your celeb fashion crush?
DAC: Melanie Laurent, Alexa Chung, Emma Stone and Mary-Kate and Ashley Olsen are women I always look at.
SK: What's the best fashion tip you've picked up on the job?
DAC: Trust your instincts — if you don't feel good in something, don't wear it.
SK: What fall fashion trend are you most excited to work?
DAC: I am really into all the leather pieces in the market right now. My closet is starting to look like a biker bar.
SK: What's your bargain fashion guilty pleasure?
DAC: I love going into Opening Ceremony in SoHo for sneakers. They always have a really eclectic mix that is under $100. Also, Zara for everything else.
SK: Fashion Week is coming up! Whose show are you most excited to see?
DAC: I cover New York and London, so from those: 3.1 Phillip Lim, Altuzarra, SUNO, Christopher Kane and Burberry. From afar I will be admiring Chloe, Celine, Carven, and Stella!
More beauty chats
Rue La La's Jackie Nasser
Refinery29's Annie Tomlin
BeautyCon's Marina Curry