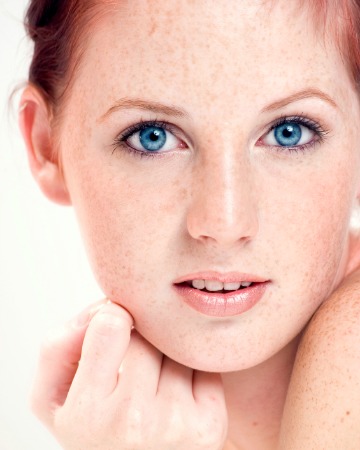 Learn to embrace them!
In June 2012, A Los Angeles-based photographer compiled a book of his photographs of freckle-faced women that were not altered through makeup or post-production editing.
The final products are stunning black and white images speckled with the beloved sun spots or angel kisses (whichever you prefer) in a volume of work fittingly titled "Freckles."
Reto Caduff, the photographer, has shared the love of freckles with many people. Now, we go beyond skin deep to discover the true beauty behind freckles and how you can fake freckles daily.
What causes freckles?
"Everyone's genetic makeup is different. The way your skin reacts to sun exposure differs from others."
Red-haired or fair-skinned are not the only requirements to have freckles. Take it from the likes of Chinese-American actress Lucy Liu, whose fierce roles are matched by her unique look dialed up only by the lovely little spots on her face.
Yet although freckles are beautiful, they are not always the result of a fiery attitude and confident nature. In fact, freckles are — in every way — the result of sun exposure. And please don't get me wrong — they are not harmful or a sign of a health problem.
Essentially, each person has an amount of melanin, a chemical produced by skin cells. The more melanin you have, the tanner you are. Freckles are formed when melanin responds to sunrays, yet instead of achieving an even suntan, sometimes they appear in spots — freckles. Of course, sun exposure can lead to sun damage, and because everyone's genetic makeup is different, the way your skin reacts to sun exposure differs from others.
Want your own freckles?
Typically, people with lighter skin tones tend to be a greater model for freckles, but as Caduff so epically points out, they are not the only ones who have freckles. And if you're an admirer of angel kisses and want to create the illusion that you have freckles as well — no, not large eyeliner spots for Halloween, but subtle sun kisses — try this:
With a small stippling sponge, lightly dab it in brown cream-based shadow. Apply along your cheeks and nose (where the sun naturally hits). Use your finger to lightly pat over the shadow to blend in with your natural skin tone. Finish it off with a blush to help set the colors.
To learn more about Reto Caduff's photographic book, "Freckles," visit his website.
More fun facts
Fade away your freckles
Fitness and health tips from Daphne Oz
How drinking tea can improve your health