(page 4 of 4)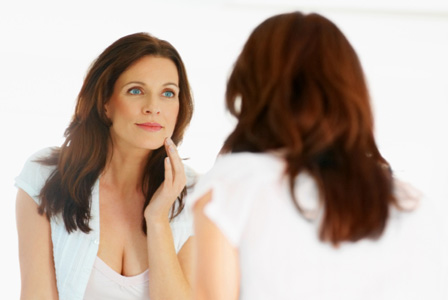 As we age, the needs of our skin continue to develop and change. Aging skin is a fact of life. But no matter how old you are, there are things you can do now to prevent skin aging later.
put your best face forward
Skin care in your 50s
It's no secret that the face begins to sag in one's 50s, but do you know why? The dermis is built much like a Jell-O mold with small pretzel sticks scattered throughout!
The pretzel sticks represent collagen fibers. The "Jell-O" portion of the dermis begins to "melt" which causes the cheeks and jowls to droop and creates deep parentheses extending between the nose and mouth (nasolabial lines), says Dr. Kunin. As we age, the HAS2 gene becomes weak, so less dermal "Jell-O" filler is produced. This is why women seek injectable fillers, to restore lift and volume. DERMAdoctor's Wrinkle Revenge Serum contains a new ingredient able to trigger the HAS2 gene to turn on and make more native dermal filler. Layer it with your collagen builder twice daily for a comprehensive dermal rejuvenation.
The signs of aging are apparent. Deeper lines, more dark age spots and much drier skin are characteristic. Vivite Hydrating Cream combines antioxidants (vitamin C, E) in a more moisturizing base to replenish dry aging skin. Retin A in higher strength and formulation (0.1 percent cream or gel) at night for several months at a time works wonders for wrinkles and blotchy skin. Even when injectables like Botox and Juvederm are added, these aforementioned products provide healthy maintenance therapy for aging skin.
Retinols
"I recommend a prescription retinol in your 50s such as Renova, Refissa, Tazorac or Atralin," says Dr. Peterson. Retinols can be drying which may only allow patients to use them only a few times a week. Certain retinol creams and gels such as Atralin have been specially formulated with moisturizers to help decrease the incidence of irritation. "If irritation continues with a retinol, then I recommend my patients to stick with less irritating anti-aging products such as growth factors and peptides," says Peterson.
Peptides
We often begin to notice in our 40s and 50s that the skin on the neck becomes more lax and thinned with a crepe paper-like consistency. Not fun at all! But there's an answer: Peptides, such as those containing palmitoyl peptides, can increase collagen and assists in skin tightening. This ingredient can be found in Revision Nectifirm and Olay Regenerist Microsculpting cream.
More anti-aging reads
Top anti-aging ingredients
3 Natural anti-aging tricks
Hardest working anti-aging ingredients