(page 3 of 4)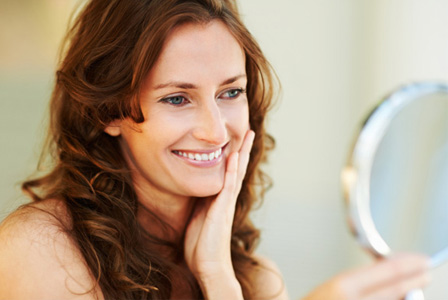 As we age, the needs of our skin continue to develop and change. Aging skin is a fact of life. But no matter how old you are, there are things you can do now to prevent skin aging later.
put your best face forward
Skin care in your 40s
The skin begins losing 1 percent of its collagen every year from the age of 40 on, warns Dr. Kunin. If you haven't already begun using a treatment to help retain and rebuild collagen fibers, it's time to begin using one. Read the ingredient lists looking for active ingredients such as amino acid peptides, vitamin C, kinetin or copper peptides. A breakthrough anti-aging red light emitting lotion is also now on the market to firm the skin.
40s skin shows increased wrinkles especially around the eyes. Dark spots and increasingly dry skin are problematic. TNS Essential Serum by SkinMedica contains growth factor, peptides and antioxidants that when applied daily, plump these lines. Vivite Eye Cream contains 10 percent glycolic (lower concentration for sensitive eye area) to improve crow's feet. Vivite Exfoliating Facial Cleanser three times weekly bumps up to 15 percent glycolic to enhance exfoliation. Retin A (0.05 to 0.1 percent) cream applied sparingly every other night builds needed collagen and fades dark spots. Moisture and continued protection is provided by Anthelios by La Roche Posay. This product is unique because it combines an effective sunscreen with an elegant moisturizer for everyday use.
Lily Garfield, creator of The Cos Bar reinforces the importance of an especially good moisturizer both in the morning and at night during this age range, in addition to an eye cream or eye serum. Some great options she recommends include Orlane's Extreme Line Reducing Care Eye Contour for the eye area and Creme d'Olives moisturizing creme as an overall facial moisturizer.
Finally in 40s, lips may show thinning. To restore fuller appearing lips, Vivite Defining Lip Plumper three times a day. This product restores volume and can supplement fillers such as Juvederm.
Up next: Top anti-aging products for your 50s >>