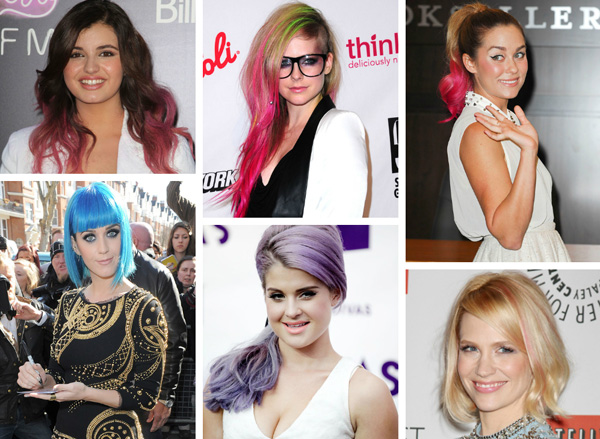 Pretty in pink
Part disco diva, part edgy rebel, there's nothing boring or ordinary about candy-colored hues. Go bold and big — and even better — reserve your right to this look for as long — or short — as you wish!
How can the everyday girl pull off the "cotton candy" colored hair trend?
Celebrity stylist Rita Hazan recommends trying her own POP Color — it gives you the freedom to keep the color temporary so you can just spray on your streaks or do your tips or your bangs. Play however you're inspired and the best part is that it will completely wash out. It's easy to use and fun to play with.
Or try extensions — SHE by SO.CAP.USA are super-popular, easy-clip extensions that come in over 90 different colors and three lengths, including cotton candy colors. Best part of all? You can remove the extensions as easily as they are applied!
Pick the right color for you
Rita Hazan says brunettes can best rock purple or blue, while redheads look great in purple and blondes in pink.
Pekela 'PK' Riley, celebrity stylist and owner of Salon PK in Jacksonville, Florida says to avoid going overboard though. "Remember, you don't have to match your clothes to your hair, just wear the color as an accessory for that extra pop! The blocking will go nicely with the flora trend we are now seeing in fashion. And these colors are only going to get bolder as it gets hotter, so we are going to go from lavender to purple."
Bigen Semi-Permanent Hair Color in Intensive Violet Red (SallyBeauty.com, $6) is formulated with natural moisturizers including honey, sunflower, beeswax and shea butter and washes out in six to eight shampoos.
Love those lashes
The cotton candy trend doesn't end with our locks — our lashes need some love as well! "A Pop Art theme is my next natural progression from my cotton candy world," says Katy Perry in a release for her Katy Perry by Eylure (Claires.com, $9.50) lashes. "I'm excited to apply these pops of blue, purple and peacock green to my new lash range," says Katy. "These are not just a futuristic fashion favorite; each one can really help bring out the color of your eyes! They're the new wave to bat your lashes."
Why is this trend so popular?
"It's fun and edgy at the same time!" says Rita. It's temporary so it's not a huge commitment. It was featured on the runways and celebrities are rocking it — so naturally everyone is into it.
More great hair
How to get your best blowout
12 Years of hairstyles at the Golden Globes
Hello hot rollers! Retro hair tools worth pulling out of storage
Photo credit: Brian To/WENN (Kelly Osbourne), Apega/WENN (Lauren Conrad), Dan Jackman/WENN (Avril Lavigne), FayesVision/WENN (Rebecca Black), Will Alexander/WENN (Katy Perry), January Jones (Nikki Nelson/WENN.com)