Chic Chevron
This summer's fashion calls for bold patterns and bright colors. We think the best of these prints is definitely chevron. Check out these cute items and let us know if you agree.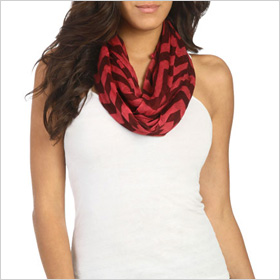 Chevron eternity scarf
Scarves are the item everyone is wearing this summer leading into fall fashion. Add the chevron print and you have the perfect summer accessory. The style never ends with this chevron eternity scarf. Grab yours at Wet Seal for only $11.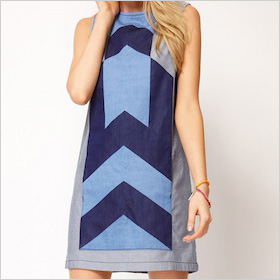 Denim dress with chevron panel
Beat the heat of the summer while still looking hot in this must-have item. The cotton dress has a bold denim panel with a chevron print. Add accessories for a night out or strap on some sandals for a BBQ. Either way, get your ASOS dress now for $68 online.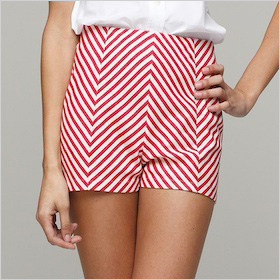 Colonial beach shorts
Summer style is made with the beach in mind. These vintage-inspired, high waisted shorts with a skinny chevron print are perfect for a day spent looking cute and staying cool. Pick up your pair from Need Supply Co. online for $38.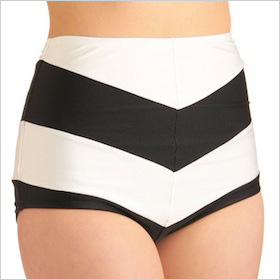 Chevron the Boardwalk Swimsuit Bottom
Speaking of the beach, if you'd rather spend your day swimming, you can still rock the chevron print with these swimsuit bottoms. Fables by Barrie created these super chic high waisted swimsuit bottoms that you can wear walking the boardwalk or braving the waves. Available along with a matching top at ModCloth for $68.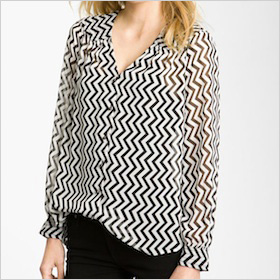 Sheer v-neck blouse
Take your chevron print to the office or out for happy hour with this delicate v-neck blouse from Bellatrix. The sheer vintage-inspired blouse is delicate enough to keep you cool on those warm summer nights. Add it to your closet now for $88 by heading to Nordstrom.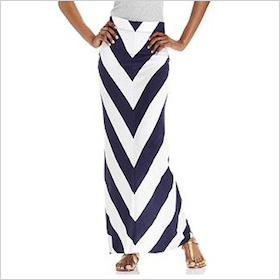 Chevron striped maxi
This chevron striped maxi skirt is a great piece to take your summer style from day to night. Pair the bold chevron print with a simple tank, add some great accessories and you've got the perfect summer outfit any time of day. Get yours at Macy's for $68.
Watch: Trendspotting with Jill Laine - Stripes
Personal stylist Jill Laine brings you her tips on how to wear stripes, which is her pick for trend of the week.
More fashion favorites
Top trends in summer shorts
Summer fashion lust: Gold shorts
Denim brights