Julianne,
I absolutely LOVE the cat eye trend that seems to be everywhere right now... but I have no clue how to create it at home! Any tips on how I can do this myself without looking like I smeared black eyeliner all over my face?
I get this question all the time! So, rest assured, you're not alone! It takes a lot of practice to free hand a winged eyeliner on yourself. But don't fret -- I am here to help you get the ultimate wing, make it stay on all day and make it perfect every time! I'm going to give you a trick to get your wings to match and recommend some products to get them to stay so your eyes will be ready to take flight in no time!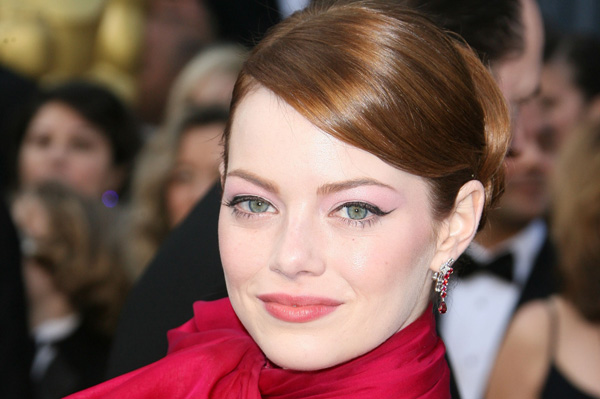 Lay down a guide line
A great trick to getting your wings to match is to lay down a "guide line." You can use a Post-it note, a business card, a piece of paper, a tissue… really anything with a straight edge. Let's say you are using a Post-it: Place an edge in an upward slanted position at the outer corner of your eye. Then, using this Post-it note as a guideline, draw on your wing and don't be afraid to draw on the actual barrier (in this case, a sticky note). Remove it and voila! A perfect edge. Repeat on the other eye for the same effect. I know, it's genius, you're welcome.
Make your meow last all day
Now that we know how to get our wings to match, we need to get them to last!
Pencil liner:
The first product you can use is a pencil. It's easy and fully totable for an on-the-go eyeliner. I love Maybelline's Master Drama cream pencil. It lasts up to 24 hours and won't smudge, which allows your eyeliner to stay crisp all day.
Gel liner: 
The second product you can use is a gel liner. This involves a little more time, but it looks gorgeous and rich. You'll need an eyeliner brush -- try MAC's #209 eyeliner brush -- and a gel liner -- try MAC's Fluidline in Blacktrack. Gel liner is very creamy and easy to use; however, it does seem to transfer (get all over your lid). To add some richness to your liner and keep it from transferring, get a small angled brush and some black shadow and push the color over the gel to set it and make it smudge-proof. You can try MAC's #266 small angle brush and MAC's shadow in Carbon.
Liquid liner: 
Lastly, we have the ever intimidating liquid liner. I know, I know, it's hard to use and you feel you only have one shot to get it perfect. But, with my "guide line" technique you don't have to be scared anymore! If you like the look of liquid liner, then try Lancome's Art Liner. It's pretty easy to use and the wand is easy to hold, allowing you to keep a steady hand. Just make sure you let your eye liner dry before you fully open your eyes!
So get ready to put on your most form fitting dress and sing "Happy Birthday Mr. President!" With this fool-proof trick and these awesome products, your inner Marilyn will be sashaying through the streets in no time!
Watch how it's done: The perfect cat-eye eyeliner tutorial
Skillful, passionate and dedicated to her craft, Julianne Kaye is one of the hottest celebrity makeup artists in the industry. With more than 16 years of experience, Julianne has established herself as the go-to expert for all things beauty. Julianne's work can be seen in action not only on the red carpet, but also in print features, television commercials, music videos, films and more. Julianne works with the likes of Britney Spears, Kate Hudson, Eva Mendes, Sophia Bush, Sharon and Kelly Osbourne and Scarlett Johansson, to name a few. She is also the author of the book Pop Tart. Visit Julianne at www.revolutionbeauty.com.
More beauty
4 Ways to melt-proof your makeup
Ask Julianne Kaye: How to wear a red lip
How to avoid summer beauty disasters
Photo credit: Adriana M. Barazza/WENN.com