SheKnows: What are your three beauty essentials right now?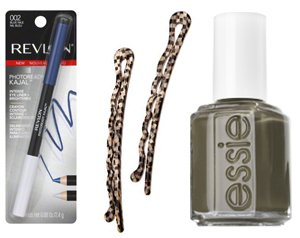 Michelle Kelchak: Blue is going to be a big color for fall so instead of using black or brown eyeliner, I trace my lids in blue indigo before applying eyeshadow. I love Revlon Photo ready Kajal Intense Eyeliner and Brightener in Blue Nile.
Fall hair on the runways was super fun with creative braids, haute ponies and chic twists. I like to add a little bit of fun to my hair by accessorizing with fun bobby pins in bright colors, crystals and metallic gold with pins by L. Erickson.
With bright colors making such a bold statement in fashion, I like to keep my nails neutral. Steel-ing the Scene by Essie is a great color because it can look like gold or silver depending on what you're wearing. It also hits on the metallic trend for fall.
SK: What's your favorite way to style your Keds?
MK: I love to wear my Keds with textured tights.
SK: Keds has done a lot of cool collaborations recently — Taylor Swift, Kate Spade, etc. What's your ideal partnership?
MK: We really strive to provide fresh product on a continuous basis. The Taylor Swift partnership has been amazing! We just launched her fall collection and the prints are so all-American and versatile. The designs are also inspired by her actual wardrobe, so it couldn't be more Taylor. I'd love to do a collaboration with Marc Jacobs for Marc by Marc. His designs, like the cat loafer, and prints are so whimsical and I think it would fit into the fun feeling of Keds. Plus who wouldn't want to collaborate with a designer who wears pajamas to a black tie event?
SK: Do you have a celeb fashion crush?
MK: Hailee Steinfeld. I loved her starburst-printed House of Holland dress at the Teen Choice awards and her safety pin embroidered dress by Donna Karen Atelier for the Met Gala.
SK: What fall fashion trend are you most excited about?
MK: I'm excited about the fall punk trend because I love plaid and there will be tons of choices out there! The trend is much more fun and feminine than it was in the '70s, like Hailee's pale pink Met Gala dress with metallic embroidered safety pins, which they made to look like flowers!
SK: Are sneakers and dresses a fashion do or a don't?
MK: Certain sneakers work really well with dresses, like Keds. Low-profile sneakers in feminine colors complement dresses perfectly, and prints can add a real pop of style.
More beauty chats
BeautyCon's Marina Curry
Rue La La's Jackie Nasser
Gilt City's Bre Garcia-Dale