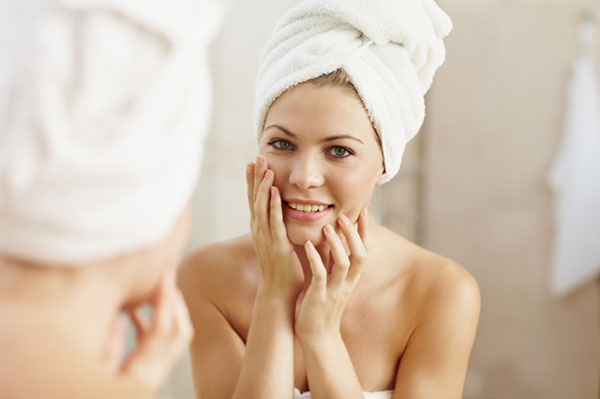 Cut the grease
You want your face to shine... but not be shiny! Dermatologists and aestheticians chime in to help you cut the grease so the real you can shine through.
Start with a healthy diet
The first step in detoxifying your skin is to detoxify your diet.
"Avoid alcohol and spicy foods, which cause the blood vessels near the skin's surface to enlarge," says celebrity dermatologist Dr. Stuart Kaplan. "Your skin becomes red, flushed and warm. This stimulates the body's natural response to heat: perspiration. Your skin is the external reflection of your overall health. Eat right, don't smoke, exercise and de-stress."
A healthy lifestyle will show in your skin.
Keep those pores clean
Cleanse your face with a product designed for oily skin.
"Switching to an oil-free cleanser will help keep pores free and clear of dirt and bacteria," says Dr. Kaplan.
Pores can also become clogged by dry skin, so exfoliate daily. The Clarisonic Deep Pore Detoxifying Solution Sonic technology combined with the Deep Pore Brush Head generates powerful fluid forces activating the Deep Pore Cleanser to gently remove surface debris and help control excess sebum, the specially designed Detoxifying Clay Mask rids the pores of damaging, clogging toxins and softens skin.
Follow cleansing with antibacterial treatment.
"Products that contain essential oils of lavender, lemongrass or peppermint can prevent blackheads and excessive oiliness while significantly improving your skin's tone and texture," says Candice Betz, spa director for AWAY Spa at W. Austin.
Also, try a clay mask to detoxify the skin.
"Kaolin in the clay absorbs dirt and oil and soothes the skin," says Dr. Joshua Zeichner, director of cosmetic and clinical research at Mount Sinai Medical Center.
The mask serves as yet another step to exfoliate dead cells that accumulate on the skin's surface and block pores.
Don't skip the moisturizer
When trying to minimize grease, resist the temptation to skip your moisturizer.
"It's important to keep in mind that oily skin still needs hydration and protection, so don't skip out on important serums and moisturizers," says Betz. "Opt for products with vitamin C or comparable antioxidants to protect and brighten."
Degrease your habits
"At-home care is very important," says Beverly Hills aesthetician Gina Marí. "Keep a clean complexion by practicing simple things like not touching your face with dirty fingers, never going to bed with your makeup on and changing your pillowcases a few times per week."
More face-friendly tips

Tips for radiant-looking skin all over
Dos and don'ts for oily skin
Homemade face masks for oily skin