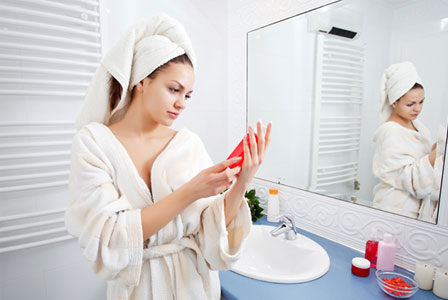 Between the rolling microscopic text and long chemical names, it can be difficult to decipher what the heck is in the skin care products you're buying and therefore what you are putting on your face and body.
Alpha what? Hydro who? what are they?
Luckily, we're decoding all those science-y terms and breaking them down to the basics.
What they are: Peptides are segments of active proteins, which are long (or sometimes short) chains of amino acids. Together, they work with cells, instructing them to behave in a certain way.
What they do: Once peptides enter skin cells, they instruct them to do certain things like produce collagen, produce elastin and alleviate redness. Peptides have also been known to help signal muscle relaxation, thereby minimizing wrinkles.
What it is: Coenzyme Q10 is a fat-soluble vitamin-like substance the body naturally makes and that that acts as an antioxidant, helping to protect cells from damage.
What it does: Coenzyme Q10, also known as CoQ10, penetrates into the layers of the epidermis and reduces the level of oxidation. By using products like toners, gels and creams that contain CoQ10, you can limit the amount of damage that free radicals do to your skin, making CoQ10 an important ingredient in anti-aging and ultraviolet-protection skin care products.
What it is: Retinol is a powerful form of the vitamin A molecule that helps increase cell renewal and collagen production.
What it does: When applied to skin, retinol helps skin cells produce newer, healthier cells, resulting in firmer skin and improved texture. Retinol is also said to help with treating acne, dark circles, wrinkles and hyperpigmentation, and it is even said to help reverse the signs of sun damage.
What it is: Hylauronic acid is a substance that occurs naturally in the body and that helps to stimulate cell renewal, lubricate connective tissue and maintain elasticity by trapping moisture.
What it does: Using products with hyaluronic acid can help make skin smoother and softer. When applied to skin, it helps minimize skin damage by stimulating the skin repair process, promoting collagen production and drawing water in — thus plumping up skin tissue.
What they are: Ceramides are lipid molecules that are found in the top layer of skin and that hold skin cells together, creating a protective barrier that helps skin retain moisture.
What they do: Ceramides help to restore moisture in dry, sensitive and irritated skin. When applied, they are absorbed into the skin, thereby resulting in smoother, firmer and healthier-looking skin. Ceramides also help to create a barrier, protecting skin from more harsh environmental factors, changes of season and other irritants.
What it is: Simply put, L-ascorbic acid is a powder that is vitamin C for the skin.
What it does: When applied to skin, L-ascorbic acid is highly effective at reducing wrinkles and increasing collagen production. It also has been shown to help reduce the appearance of skin discolorations, strengthen skin's barrier response, enhance skin's repair process and reduce inflammation.
What it is: Alpha lipoic acid is an antioxidant that is made by the body and that helps protect skin against aging.
What it does: Known as the most powerful anti-aging antioxidant, alpha lipoic acid stimulates cells, helping to repair damaged skin and fight future skin damage. Because it's soluble in both water and fat, it can enter into all parts of the cell, helping to reduce fine lines, give skin a healthy glow and boost levels of other antioxidants.
What it is: Hydroquinone is a compound found in skin products intended to help reduce the appearance of dark spots, freckles, acne scars and other skin blotches.
What it does: Hydroquinone is highly effective at lightening hyperpigmentation, such as sun spots or scars. When applied to skin, it works to diminish the appearance of dark spots by blocking the enzyme that triggers melanin production in the skin. Skin care products that contain hydroquinone are often referred to as bleaching creams or lightening agents.
What it is: Pitera is a naturally occurring liquid that is derived from yeast fermentation and that is rich in vitamins and minerals.
What it does: Pitera produces a seemingly miraculous rebirth of the skin through stimulation and renewal of the outer layer. When applied, it penetrates deep into the skin, increasing moisture and improving texture and clarity for a more youthful complexion. Because it's a natural hydrator, pitera is also a great antidote to the drying effects of colder climates.
What they are: Alpha hydroxy acid (AHA) and beta hydroxy acid (BHA) are naturally occurring acids that, when applied to skin, cause the cells of the epidermis to become "unglued" — allowing dead skin cells to shed and making room for regrowth of new skin.
What they do: When applied to skin, AHAs work at the surface layer to bind moisture and improve collagen production while BHAs penetrate deeper to help get rid of dead skin cells and unclog pores. These ingredients, which are commonly found in skin care products like the Clarisonic Deep Pore Detoxifying Solution, work to exfoliate skin, minimize pores and promote new skin growth. Using AHAs and BHAs in combination with an exfoliating brush like the Clarisonic Deep Pore Brush head will also improve overall skin texture.
Remember, there are helpful ingredients in skin care products, but there are harmful ones, too. Here are a few potentially harmful ingredients to watch for:
Parabens — A group of chemicals used as preservatives to extend the shelf life of products
Phthalates — Toxic ingredients classified as probable human carcinogens
MEA, DEA and TEA — Ammonia compounds that can cause allergic reactions, eye irritation and dryness of the hair and skin
More on skin care
The ultimate summer beauty guide
5 Celebrity secrets to flawless skin
3 Natural anti-aging tricks for skin health
More From SheKnows Explorer