SheKnows: What are your top three beauty essentials?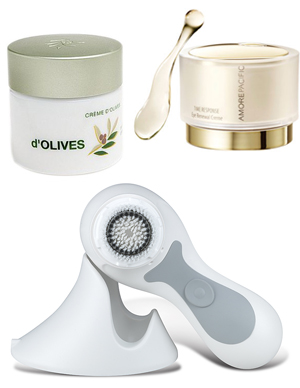 Lily Garfield: The Clarisonic gently exfoliates and cleans your face thoroughly while stimulating skin. Creme d'Olives is a great product for women over 50. It softens the skin, prevents wrinkles and brightens the skin, creating a more elegant glow. Amore Pacific Time Response Eye Renewal Creme is a basic moisturizer that softens, hydrates the skin and allows the foundation to stay on and not change colors.
SK: Beauty products are expensive sometimes! For the gal on a budget, what in your opinion is worth splurging on and what's better off saving on?
LG: Invest in sunblocks. Not all sunblocks are created equal. Not all drugstore and mass produced sunblocks do the job intended. Many pass the FDA requirements but don't necessarily give optimal coverage.
SK: Which celeb do you think nails it every time with her makeup?
LG: Halle Berry gets it right every time. She is flawless every time she steps out whether it is on the red carpet or the playground with her child. She can wear very minimal makeup and still look like the glamorous movie star that she is.
SK: What's one piece of beauty advice you've learned on the job that you'll keep with you forever?
LG: From my own personal experience, I would say whether you are pregnant, just gave birth or are going through chemo, you must always define your lips and eyes. The lips and eyes are communication tools and the first thing another person will notice on your face.
SK: What's your best tip for staying beautiful on the go while traveling?
"The lips and eyes are communication tools and the first thing another person will notice on your face."
LG: I would suggest always carrying a sample size of your favorite moisturizer while traveling that you can pat on your face to rejuvenate and plump up the skin. You want to avoid rubbing, as that will take your makeup off, and focus just on patting and pressing it gently into your skin. I would also recommend Amore Pacific's Skin Renewal spraying mist.
In terms of traveling and packing your makeup, I would recommend sticking with all creams and solids. Bringing a compact foundation and/or creams versus liquid will save you from the high altitude pressure explosion that causes most liquids to leak all over your belongings.
More beauty chats
Refinery29's Annie Tomlin
Rue La La's Jackie Nasser
Gilt City's Bre Garcia-Dale