Do we love them? Well, the jury's still out — but we are loving another trend that's happening in Hollywood right now: big pants! Gone are the skintight (and unforgiving) skinny jeans. In their place? Wide-leg trousers with plenty of forgiving fabric.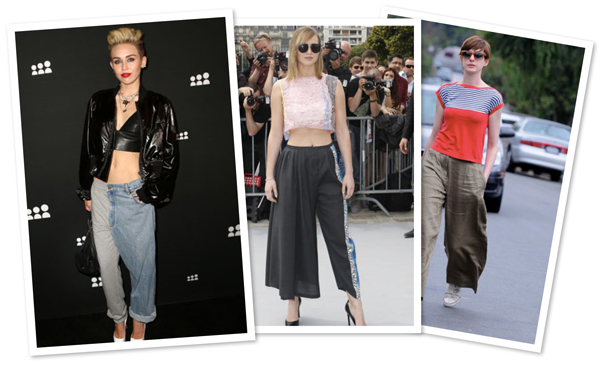 We started noticing it in May when Miley Cyrus wore some half-denim, half-sweatpants to a Myspace music showcase. However, it really didn't seem like a trend until both Jennifer Lawrence and Anne Hathaway sported their own styles — Lawrence in Dior in Paris, Hathaway in Beverly Hills.
The key to wearing wide legs is to balance out the bottom with a semifitted top, as does Hathaway, or with a fitted top, as does Lawrence. Baggy bottom + baggy top just doesn't work here.
On another note: Ora, Cyrus and Rihanna are really trying to make the whole split-pants thing happen. We love that these celebs are so daring with their sartorial choices, but we've yet to see it look as amazing on us mere mortals. We love the idea, though — the split-personality style is really starting to grow on us.
Tell us
Will you wear wide-leg pants, or are you sticking to your skinny jeans? Sound off below!
More on celeb style
Get the look: Nina Dobrev's flirty blue dress
Emily Maynard dishes on her jewelry line
Fashion face-off: Louise Roe vs. Olivia Munn
Photo credits: Getty, Bridow/WENN.com, WENN.com, Cousart/JFXimages/WENN.com