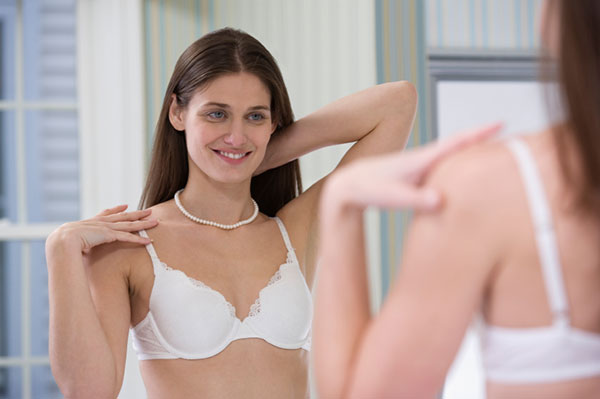 Develop your bra sense
Grandma called them "foundation garments" for a reason: Your bra affects the fit and appearance of everything you layer over it. More importantly, the bra you choose can impact your health. Don't skimp on the lingerie you bring into your life — know your stuff and understand why bra sense is as important as common sense.
Nothing can diminish an otherwise-sexy silhouette quite like the dreaded "quadraboob" (caused by bra cups that are too small) or "back boobs" (caused when a too-large bra band rides up in the back). On the other hand, a bra that fits well accentuates your figure by providing support and lift — and it can even have a slimming effect. Breasts are dynamic, and changes due to weight gain or loss, menstruation, pregnancy and age mean a woman's bra size can change several times over the course of her life. An annual fitting ensures that you're keeping up with changes. Don't be disappointed if you have to go up or down a size. You'll look and feel your best in a bra that fits.
Aesthetics aside, a poorly fitting bra can actually be bad for your health. Neck and back pain associated with curvature of the upper spine are a common complaint of larger-busted women. Other problems include breast pain, headaches, painful "grooving" from bra straps and even breathing problems. The right bra provides support from beneath as well as above, transferring the weight of your breasts closer to your center of gravity and giving your shoulders a break.
Not all bras are equal, and if you think it's OK to get on the treadmill in your regular bra, think again. One of the primary purposes for wearing a bra is to reduce breast motion, which contributes to sag over time. A sports bra takes this a step further by providing a greater level of support and control, which makes for a better workout. And yes, even smaller-chested women need a sports bra if they're active. Besides, getting all hot and sweaty in a regular fashion bra accelerates the gradual loss of its elasticity.
The right bra boosts more than your breasts — it can boost your confidence, too. Knowing that your breasts are being properly supported and that your bra is going to stay in place gives you the self-assurance to do your thing, whether it means Frisbee with the dog, dancing the night away or delivering a devastating serve à la Marion Bartoli.
More on bras
The tricky-summer-dress bra guide
Tips for choosing the best sports bra
Bra-buying tips for women with smaller chests