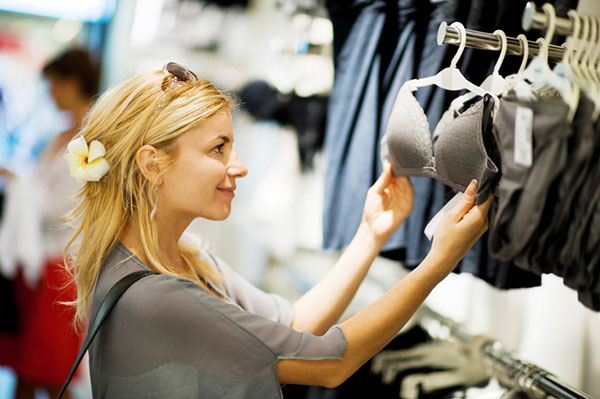 Easy bra buying
The average useful life span of a bra is only about a year, but the very thought of bra shopping keeps many women wearing old or ill-fitting bras. If you need to update your lingerie drawer, grab these tips and head out the door. Who knows? You may even have fun!
Bra size isn't unchangeable like blood type — age, pregnancy and weight gain or loss can cause a woman's breasts to change size and shape. Many department and lingerie stores provide fittings, but you can do it yourself with a tape measure and this simple formula:
Measure around your chest beneath your breasts, where the band of your bra sits. If the number is even, add 4 inches. If the number is odd, add 5 inches. This is your band size.
Loosely measure around the fullest part of your breasts (at nipple level). This is your cup size.
Subtract your cup size from your band size. A difference of 1 inch means you're an A cup. A difference of 2 inches makes you a B cup, 3 inches makes you a C cup and so on.
Sure, that neon-yellow bra with hot-pink lace is cute, but can you actually wear it with anything? Most women need at least five different kinds of bras: nude, black, white, athletic and ooh-la-la. Convertible strapless bras give you more options.
A new bra should fit comfortably on the outermost (loosest) hook. This way, you will be able to adjust for fit as the bra stretches over time. You should be able to comfortably slip two fingers between your chest and the band.
Underwires provide excellent support and shaping. Resting at the base of the breasts, underwires should comfortably cup each breast. The center of the bra should be seated against your breastbone. Gapping, poking and squeezing indicate poor fit.
Straps should be wide enough to give you the necessary support without cutting into your shoulders. Conversely, they shouldn't slip easily off your shoulders if you shrug or slouch (and we all slouch sometimes).
Look at yourself sideways in a mirror while wearing the bra. Your breasts should be halfway between your shoulders and elbows and should fit comfortably inside the cups, without overspill. The back and front of the band should be parallel.
Bend over. If your breasts fall out of the bra, it's the wrong size. Then reach up with your arms and twist from side to side — the bra should stay put.
Once you've found a bra you love, don't forget to put your shirt back on to see how it will look under your clothes. Seams and details like lace sometimes translate into lumpiness once you're completely dressed.
If you're pregnant, consider a nursing bra — even if you aren't nursing or aren't planning to. These bras are designed to accommodate fluctuating breast size and shape.
A good sports bra is essential for all active women, regardless of breast size. Not only does a sports bra reduce breast movement, but sweat, body heat and the oils from our skin wreak havoc on a bra's elasticity — thus shortening its life span. So... don't wear your new neon-yellow and hot-pink lace bra to hot yoga!
More on bras
Why wearing the right bra matters
The best sports bra for your breasts
How to find the right bra