Turn it up!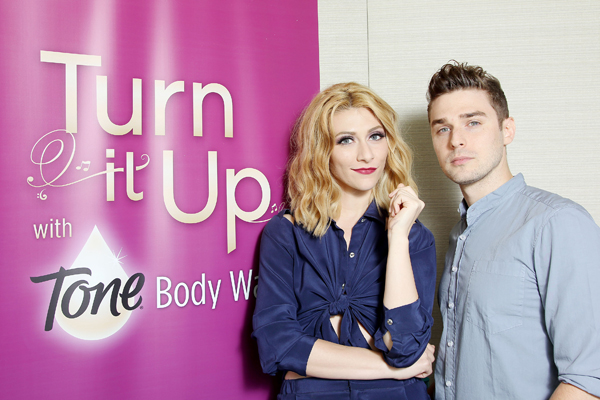 It's shaping up to be a busy summer for Karmin. The singing duo and real life couple are touring with the Jonas Brothers, just released a new single "Acapella," and they're partnering with one of their product faves, Tone Body Wash for the brand's Turn it Up! series. We sat down with Karmin to chat summer beauty tips, couples' fashion and funky style. Listen in!

SheKnows: Do you have any summer beauty tips you swear by?
Amy Heidemann: As of recently, putting sunscreen on every day. I was not that great about that earlier in life, so it's something I've kind of sworn to do from here on out. Sunscreen will make you look better than any kind of tanning lotion ever! And I would say a big thing that I love now is dry shampoo because in the summertime, you sweat a lot more and you want to keep everything looking fresh, and it's hard to take a shower in between shows or while you're on the tour bus waiting for the next city.
SK: Being on the road a lot can wreak havoc on your skin. How do you keep yours looking so great?
AH: Moisturizing is huge, I try to stick to a routine if I can. Thank goodness Tone Body Wash is really good at trying to keep your skin really clean and trying to exfoliate (if you get one of those exfoliating loofahs). I also try to drink a ton of water, like more water than you want to have.
SK: What's a neat beauty trick you've picked up from being in the industry?
AH: We recently did an episode on Nickelodeon with Big Time Rush. They have an in-house glam team and the makeup artist there taught me how to properly highlight your face. I knew how to add contouring, but highlighting was really interesting. He showed me all the points on the face to put a lighter color so that it makes you look really awake and really refreshed!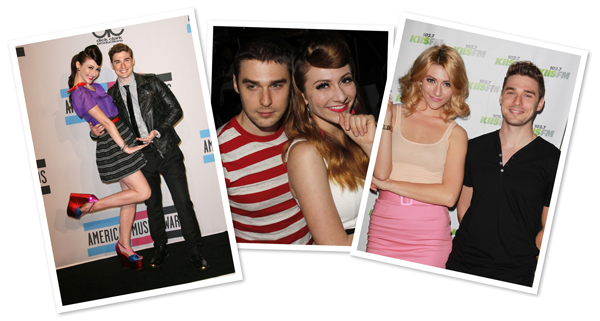 SK: Do you guys influence each other's styles or give each other input?
Nick Noonan: Pretty much she has all input for what I wear and I have zero input for what she wears (laughs). I'm just kidding! Yeah actually we do both have input. Obviously everything's always changing and evolving, but right now we're monochromatic — we're the same color head to toe — which is actually kind of a '90s influenced thing. But we definitely do influence, we definitely have a little input here and there.
AH: Yeah and who better to ask how hot you look in an outfit than your significant other? It's perfect!
SK: Amy, you have such a fun, fresh style. What are some of your go-to brands and places to shop?
AH: Well, thank you, first of all. I appreciate that! I've always enjoyed really unique style. I think Gwen Stefani and more strong, less feminine females really inspire me. But a lot of the clothes that I find are at vintage shops and secondhand stores for the retro feel. And then I get a lot of basics at American Apparel. I'm always wearing their disco pants and cropped tops, and I have them in every color. So it's simple, but it's funky and comfortable. And I love gold jewelry, so I have a lot of cool necklaces and chains — it makes me feel a little bit more gangster.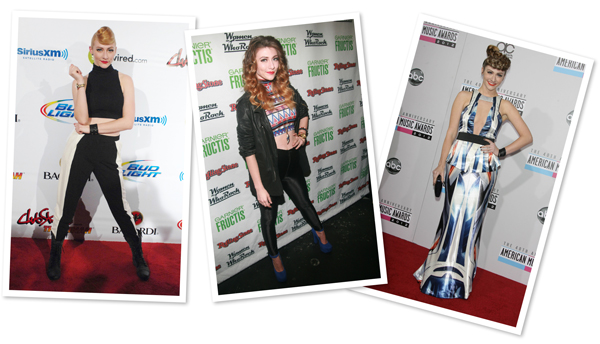 SK: You're known for taking fashion risks, Amy. What's your best style advice for women who might want to try something new with their look but are a bit nervous?
AH: I think what a lot of people might consider bold or risky — like a cat eye or my signature hairstyle, the suicide roll, or high-waisted pants — are three staples in my fashion world that I just love. I think [taking fashion risks] sets you apart and it gives you a chance to be unique. I guess, until everybody starts doing it and then it won't be unique, right?
SK: Do you have a celeb style crush?
AH: I do love Janelle Monae. I think she's so classy and she always wears [monochromatic] black and white, which I love. Pink is such a strong female figure and she always has a really cool fashion sense. It's not even always about what you're wearing, it's how you wear it!
More celebrity beauty
Demi Lovato battles bullying, dishes on beauty
Kat Graham shares her fashion must-haves
Willow Shields spills on her cute style
Photo credits: Adriana M. Barraza/WENN.com, FayesVision/WENN.com, WENN.com, FayesVision/WENN.com, WENN.com