"Before you head out the door to purchase your fall 2013 wardrobe, make sure you understand your body type and which body parts you should flaunt," advises Jennifer Kelton, style expert, fashion designer and founder of Dress for the Date, a service that helps people dress appropriately for their age, body type and lifestyle. We asked her to share some insight into how to dress for your body this fall.
Fall fashion trends to watch for
If you're wondering where to start, there are a few key trends to focus on for fall. Kelton shares some of the trends she's most looking forward to.
Contrast: Contrasting colors and patterns were seen globally on the catwalks for fall.
Tartan: Traditional and modern Tartan skirts are also making a style splash for cooler weather.
Blue: Navy blue is the new black, says Kelton, according to the collections from the fashion houses of Calvin Klein and Nina Ricci.
Tweed: Chanel and Dolce & Gabbana are inspiring fall trends with beautiful tweeds.
Grunge: Grunge is also making a statement with studded leathers and plaids.
Manly twist: Menswear influences took center stage at many of the shows.
Fall shopping tips by body type
Now that you have an idea of some hot fall trends, it's time to focus on what to buy according to your body type. "If you have great legs, show them off in a Tartan skirt. If you are blessed with great cleavage, then a corseted top from Jonathan Saunders will scream bombshell," notes Kelton. She shares some simple but effective ways to flaunt what you've got this fall.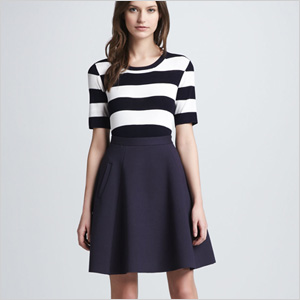 Apple shaped
If you're apple shaped, go for an A-line skirt because they help balance out your body shape. You can also rely on a classic DVF wrap dress, which Kelton says will never fail you. Our pick: Theory crepe A-line skirt (neimanmarcus.com, $130).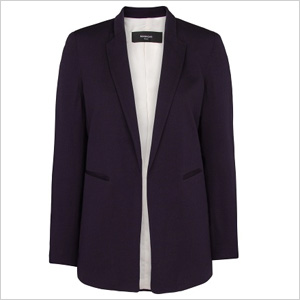 Rectangular
Avoid wearing shapeless clothing if you're rectangular shaped. This will only draw attention to a straight silhouette, explains Kelton. She suggests creating curves by belting a top or dress at the waist or opting for a long navy blazer to emphasize your leanness. Our pick: Long navy blazer (mango.com, $120).
Most importantly, Kelton says to have fun with your outfit choices. If you feel uncomfortable in a certain trend, don't force it! Stick with outfits that will let your stunning self shine through.
More style tips and trends
3 Ways to wear a maternity maxi dress
Find the right bra for your dress
Find the right necklace for your neckline