SheKnows: What are the three dresses every woman should have in her closet?
Bruno Schiavi: I think we all know that an LBD is a must — it's classic, elegant and can work for so many different occasions. Another must is a fun and eye-catching cocktail dress, and it's really important that every woman has that one dress that makes her feel confident and great about herself.
SK: The holidays are coming and that means parties galore! For ladies on a budget, how can you stretch a limited dress collection so you look original and stylish at each party?
BS: It's all about accessorizing for the event. Most dresses can be worn in many different ways depending on how you style them. That's why we offer style tips from fashion experts on OneDressADay.com — to show the versatility of each dress. A simple dress can be styled up with a high heel and a great statement necklace. And in the same way, a party dress can be styled down with cute flats, a belt and a longer pendant necklace or layered chains for a more casual but still stylish look.
SK: What's your best tip for accessorizing a dress for holiday parties?
BS: A great pair of chandelier earrings always feels very holiday to me and it's a great way to add a bit of glamour for a holiday party. Just stick to a simple necklace and do a half or full hair updo so that your earrings aren't hidden in your hair. And a great statement clutch is always the perfect accessory to add to any party outfit.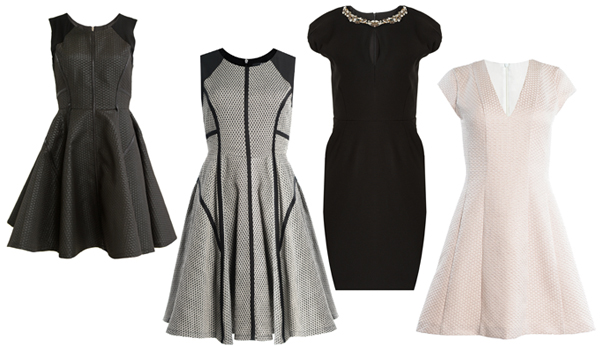 SK: What's your favorite way to style a dress?
BS: I prefer to let the dress speak for itself, and focus on one or two key jewelry pieces like a statement necklace complemented by a ring, for example. I think it's important to not overdo it. If you are wearing a big necklace, keep the earrings simple and vice versa. And of course, a great dress can always be accentuated by a great pair of heels.
SK: Women are often confused about what type of dress to wear to certain parties. So what style would you suggest for the following parties? Office party, family party, a friend's party.
BS: For an office party, I definitely think you want to play it safe. Even though office parties can be a lot of fun, you are still in a professional environment and you want to keep it that way. Depending on what type of party it is, I would say a simple cocktail dress and a blazer, and then play around with accessories.
For a family party I think you should feel free to dress comfortably — probably somewhere in between the office party and a friend's party. When it comes to parties with your friends, this is the time to go all out! Throw on that really fabulous dress that you haven't had a chance to wear yet, or try a new style that you've never tried before. Parties with your friends are all about having a fun time!
More fashion tips
Celebrity styles to steal
How to balance out your jewelry
Blazers for tall women