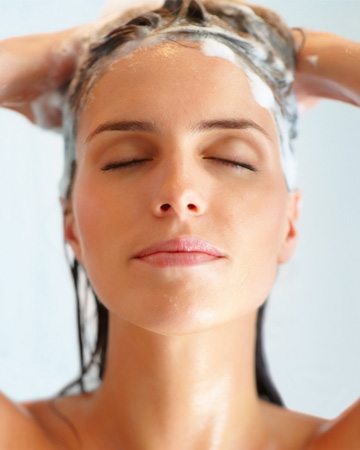 Simplify your hair routine
Gels, creams, sprays, oh my! Finding out what hair products you really should be using can be quite confusing. So we're going straight to the source and asking some of the industry's hottest talents what products you really need. Screw the rest!
Product overload
Not every woman needs a drawer filled with 20 different hair products — that's what the professionals are for. But modern advertising has kind of taught us to believe that we need loads of products, says NYC hairstylist Natasha Leibel. "With all the mass marketing and product saturation that is thrown at us each day, we are consistently bombarded with merchandise overload which leads to confusion, overconsumption and usually breaking the bank," she says.
So how can we filter out all the fluff to determine what our hair really needs? "When we think about what hair products we should be using when trying to minimize our daily regime, we really need to get back to basics. Think cleansing, hydrating, protecting, styling and finishing," Leibel says.
The only products you'll ever need
We all need certain products for special events, but what are the ones you should turn to in your daily life if you're looking to simplify your beauty routine? Keep it simple, silly.
"Good hair care starts with healthy hair. By hydrating the hair, you're building a stronger foundation for styling. Utilizing four to five products is truly all you need because excess of products can weigh the hair down. Less is more for day-to-day styling," says NYC hairstylist Adam Maclay.
Maclay cites shampoo, conditioner, a leave-in and styling product and a hairspray as the only products you really need. Leibel agrees, noting shampoo, conditioner, styling and finishing products as her top four must-haves.
And if you're looking to save some money on the essentials, don't be afraid to go DIY, Leibel says. "We forget that many of our products have multifunctional uses and can be cross referenced within our daily routine. For example, your daily conditioner can be cocktailed with spring water to create a spray leave-in conditioner. Or when a small amount is used on dry hair, it doubles as a styling balm."
Product priorities
So why are these product types so important for our hair's health? That's the easy part. Conditioning tops Leibel's list because it's a way to recover after all the harsh treatment we subject our locks to: "Most women are fairly tough on their hair — coloring, curling, straightening, etc. I believe that conditioning your hair should be of top priority. Products that hydrate, protect and nourish maximize longevity in color."
Shampoo's importance is undeniable because it helps cleanse our strained locks, but leave-in products are something many women don't, but should, use. Why? As Maclay explains, a leave-in product can protect your hair against heat styling and color fading. Sounds like a win-win to us! Last but not least, a styling product is key for polished, finished strands.
Product picks
Leibel and Maclay were nice enough to share some of their hair mainstays. Have fun trying them!
More great hair tips